A Homemade Filipino Mango Ice Cream is a frozen treat made from ripe mangoes mix with heavy whipping cream, and condensed milk. Mix-ins like mango cubes, nuts (pistachios, walnuts, or cashews) are also an option. Other versions contain bits and pieces of cheese. It uses only a few ingredients, and it involves no churning whatsoever.
Quick fact, mangoes are high in pectin or soluble fiber that helps lower blood cholesterol, prevents cancer, promotes a healthy weight, and improves digestion.
Because seasonal mangoes in many varieties are superabundant back home in the Philippines, this frozen Filipino treat is usually served for desserts, snacks, or special occasions. You can buy them in many supermarkets, bakeries, restaurants, and even in fast-food chains. Join me in learning how to make this creamy, silky, and refreshing frozen treat! Let's get started!
---
---
Ingredients
3 large ripe mango, cubed + 1 more for pureeing
16 fl oz (1 pint) heavy whipping cream
1 cup sweetened condensed milk
1.5 oz medium cheddar cheese, cubed (optional. I used 2 medium cheddar cheese sticks)
¼ cup unsalted pistachios, roughly chopped, divided (optional)
½ tsp Kosher salt + a pinch for sprinkles
1 tsp vanilla extract
---
Item's you'll need
Blender
Mixing bowls
Measuring cups, bowls, and spoons
Large bowl(s) or an airtight container(s) with lids
Rubber spatulas
Serving bowls
Hand or stand mixer
Cutting board and knives
Pairing knife
Dessert spoons
Saran wrap
---
Instructions
Make the Mango Puree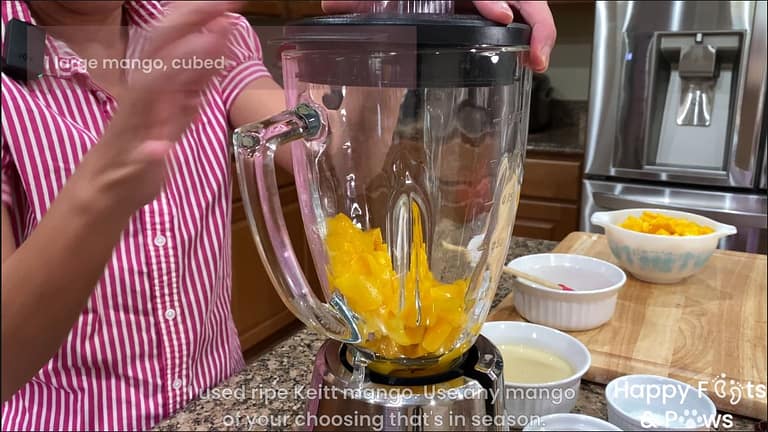 Slice a large ripe mango and cut it into cubes. Transfer in a blender. Puree until liquified and smooth. Pour into a medium-sized bowl. Set aside.
Make the Mango Mixture
Slice 4 large ripe mangoes and cut them into cubes. Use a pairing knife to remove them. Place them in a bowl and set them aside. In a hand or stand mixer bowl, pour the heavy whipping cream, beat for 8-10 minutes or until a stiff peak forms. It's important to achieve a stiff peak. This will result in a silky, smooth, and creamy texture of the ice cream once frozen. Do not over-beat to prevent the cream from collapsing or flattening. Fold the rest of the ingredients with the whipping cream. Adding some salt will enhance the sweetness of the mango and condensed milk. Pour half of the mixture into a bowl or airtight container with a lid. Tap and shake to even out the top. Sprinkle a pinch of salt and pour the remaining mixture. Tap and shake again to flatten out the top.
Freeze the Ice Cream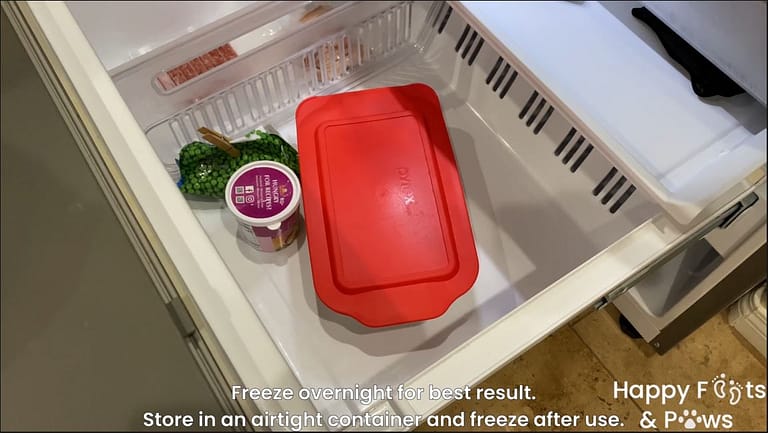 Cover and press a saran wrap on the mixture. Saran wrap will help in preventing ice formation on top of the ice cream. Put the lid on tightly and freeze for 6 hours or overnight. I recommend freezing it overnight for the best result. The next day, the ice cream should be frozen and ready for consumption. Allow ice cream to sit on the kitchen counter for 3-5 minutes to soften before scooping. Serve any time of the day and enjoy!
---
Please consider subscribing to our channel to help support us.
---
Did you enjoy this recipe? Please leave a review.