Ube Bars or Purple Yam Bar Bread is a soft, buttery, and flaky bread in bar forms. They are fully dipped in Ube or purple yam syrup. As a finishing touch, it is heavily dredged in unsweetened coconut flakes or desiccated coconut until it is completely coated. The bread texture is similar to a biscuit except it's on a sweeter side. These Ube Bars are Filipino treat sold in bakeries, supermarkets, and even in sari-sari stores (a neighborhood sundry or convenience store back home in the Philippines).
Ube also known as purple yam is a tuberous vegetable. It is starchy with bright purple flesh. Its sweet-vanilla-like flavor and nutty texture are very tasty. We use this a lot in making different delicacies, and sweet treats back home in my country the Philippines. And one of them is this nostalgic bread bar recipe that I know your family of all ages will surely enjoy! Let's get started!
---
---
Ingredients
Dough
2 cups all-purpose flour + 5 tbsp for mixing and dusting (I used unbleached flour)
1 tbsp brown sugar
1 tbsp baking powder
¼ tsp baking soda
1 tsp Kosher salt (regular salt works fine)
6 tbsp cold unsalted butter, cubed + 1 tbsp (softened) for greasing the baking pan
1 cup buttermilk
Ube or Purple Yam Syrup
2 cups filtered water (at room temp)
2 tsp cornstarch (or corn flour)
1/3 cup (or 5 tbsp) purple yam pudding
2-4 droplets blue food color (adjust to the desired color, I used in gel form )
2-4 droplets red food color (adjust to the desired color, I used in gel form)
7 oz unsweetened coconut flakes (or desiccated coconut)
---
Item's you'll need
Stand or hand mixer
Large and medium-sized mixing bowls
Measuring cups, bowls, spoons
Baking sheets
Wide bowls with a flat bottom
Cutting board
Dough cutter or knife
Rolling pin
Thong and/or chopsticks
Cooking rack
Paper towel
---
Instructions
Make the Dough
In a food processor, combine the dough ingredients. Pulse until coarse crumbs are formed. You may also use a potato masher to mash the ingredients with the cold butter in a large bowl. Transfer into a large bowl. Make a well in the middle and carefully pour the buttermilk. Mix using a stand or hand mixer fitted with a dough hook. Begin with setting the speed to medium and increase the speed as needed. Mix for 8-10 minutes or until a dough ball is formed. If the dough is still tacky and sticky to the couch, add some flour 1 tablespoon at a time until the dough turns soft and no longer sticky.
Bake the Bread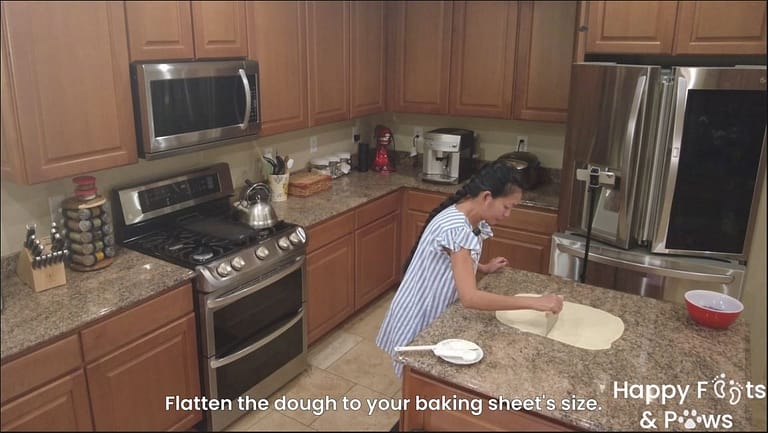 Turn the dough onto a lightly floured surface. Using a rolling pin, flatten the dough into1/8-inch a thick rectangular shape (same size as your baking sheet). Cut them in half or roll them around the rolling pin as a whole and unroll it onto the baking sheet. Arrange to cover the bottom of the baking sheet as a whole or halfway. Put 5 scoops of the purple yam pudding as the filling. Spread it out evenly to cover half of the flattened dough. Place or fold the other half on top. Arrange to cover the filling. Smooth it out using a rolling pin. Bake for 20-25 minutes in a preheated oven at 350° F/177° C. Then remove from the oven and allow to cool completely.
Make the Purple Yam Syrup
In a small saucepan, mix the filtered water and the cornstarch stir it until cornstarch has dissolved. Add the purple yam pudding, adjust the amount to your desired thickness. Bring to a simmer over medium-high heat for 8-10 minutes or until the syrup thickens. Transfer into a medium-sized bowl with a flat bottom. Let it sit to cool down for 15-20 minutes.
Make the Ube Bars
When the bread and syrup cools down. Begin coating by dipping the bread bar in the syrup. Coat it and let it sit for about 30seconds. Then place the coated bar onto a wire rack for the excess syrup to drip away. Toss it around the coconut flakes or desiccated coconut until they are fully covered. Serve for snacks or desserts and enjoy! Refrigerate the leftover in an airtight container for 5-7 days.
---
Please consider subscribing to our channel to help support us.
---
Did you enjoy this recipe? Please leave a review.