Escabeche is a dish Filipinos adapted from Spanish and made local modifications of our own. There are different variations from all over the Philippines. Moreover, this dish usually consists of fish or meat cooked in vinegar and spiced with carrots, peppers, garlic, onions, and peppercorns or ground peppers. We then made some modifications and gave it a hint of sweetness.
This recipe is very easy to make. If you enjoy veggies, be sure to make more sauteed vegetables. Also, make sure to add more sliced pineapples as a garnish to enhance the sweetness to it. I separately cook the vegetables and the sweet and sour sauce. You may do the same or merge the two if desired. Join me in learning how to make this savory and sweet Filipino dish. Let's get started!
---
---
Ingredients
Fried Fish
2 lbs whole or sliced fish, bone-in (I used whole pompano fish)
Dashes Kosher salt
2 cups cooking oil
Sauteed vegetables
3 tbsp annatto oil
1 medium-sized onion, sliced
6 whole garlic cloves, crushed
1 large ginger root, thinly cut into 3-inch strips
1 cup matchsticks carrots (or cut into thin strips)
1 large green bell pepper, cut into strips
1 large red bell pepper, cut into strips
1 large yellow bell pepper, cut into strips
1 tub (10 oz) fresh pineapples, sliced (save some for garnish)
3 tbsp pineapple juice
3 stalks spring onions, cut into 3-inch batons
Salt and pepper to taste (adjust to taste)
Sweet and sour sauce
½ cup filtered water (at room temp)
¼ cup light soy sauce or toyo (adjust to taste)
3 tbsp distilled white vinegar (use any type of vinegar of your choice)
2 tbsp brown sugar (adjust to taste)
3 tbsp pineapple juice
Cornstarch slurry
½-1 cup filtered water (at room temp)
1 tbsp cornstarch (or corn flour)
Items You'll Need
Cutting board
Knives
Baking sheet
Large saucepan or pot
Large frying pan or skillet
Measuring bowls, cups, spoons
Cooling rack
Paper towel
Wooden spatula
Serving plates
Serving bowls
---
Instructions
Clean the Fish
Place the fish on a cutting board and make a 3-4 inches vertical cut on the upper stomach found below the gill cover. Cutting will help remove the gills and guts out easily. Then remove the gills along with other intestinal parts (if there are fish eggs you may leave them if you like to eat them). Wash thoroughly until water runs clear. You may slice them to your desired size or keep them whole. I like scoring the fish so it's easy to see the meat as it cooks, it's up to you if you want to do the same. Then pat them dry on both sides. Apply salt on both sides as well. Salt the cavity too if preferred. Set aside for later.
Cook the Fish
In a large frying pan or skillet, heat some cooking oil over high heat. When the oil is hot, turn the heat to medium-high and slowly lower the fish. Cook them for 8-10 minutes on each side or until golden. Place the cooked fish on a paper towel-lined baking sheet. Set aside for later.
Saute the Vegetables
In a large saucepan or pot, heat some annatto oil over medium-high heat. Saute onion until translucent. Mix in the crushed garlic and saute until fragrant. Next, add the strips of ginger and saute until soft. Add the carrots. Cook them until soft, then the bell peppers. Give a good stir until well mixed. Cook for another 3-5 minutes or until soft but still crunchy. Mix in some pineapple (with the juice if there are any). Then the spring onions. Stir it well. Then season with some salt and pepper. Give it another good stir then set it aside for later.
Make the Sweet and Sour Sauce
In a small saucepan, combine the water, light soy sauce or toyo, distilled white vinegar, brown sugar, and pineapple juice. Mix well. Bring to a simmer over medium-high heat for 10-15 or until the sauce thickens. Remove from heat.
Put Together the Sweet and Sour Fish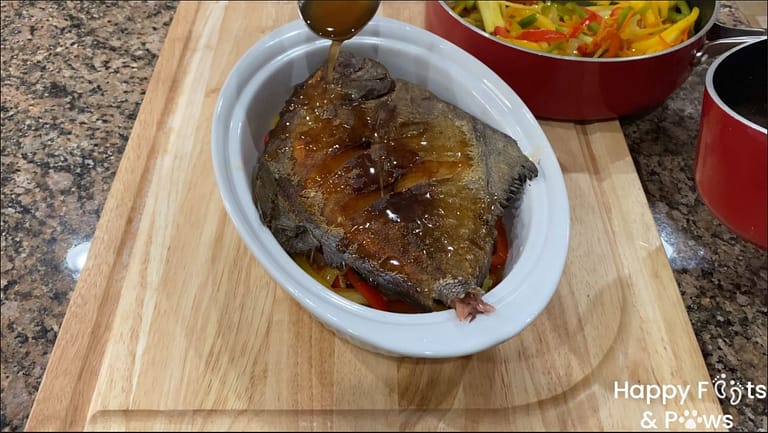 Now, let's put together our ingredients. In a large serving bowl or plate arrange some of the sauteed vegetables. Pour a couple of spoonfuls of the sauce. Then place the fried fish and pour some sauce onto the fish. Turn it over and pour some sauce on the other side as well. Then cover the fish with some more sauteed veggies. Pour more sweet and sour sauce as needed. Garnish with some more pineapples. Serve warm with some steamed rice for lunch or dinner. Enjoy!
---
Please consider subscribing to our channel to help support us.
---
Did you enjoy this recipe? Please leave a review.