Eggplant is one of my favorite vegetables because of its versatility in usage. You can use them for making soups, stews, fried dishes, and even for salad. The eggplant salad and omelet are great appetizers and side dishes. Some even enjoy them as a full meal. How about you join me in learning how to make Filipino style eggplant omelet and Filipino style grilled salad. This is essentially two recipes in one. You can choose to make the salad or make the omelet. The salad will be easier as you do not need banana leaves. The choice is yours!
---
---
Ingredients
4 large whole eggplants, pierced (or any eggplant variety of your choosing)
Sauteed Vegetables
1 large shallot, finely chopped
1 tsp minced garlic
1 large Roma tomatoes, diced (or any tomato variety of your choosing)
Salt and pepper to taste (I used white pepper)
1 tbsp extra virgin olive oil (canola or vegetable oil works fine)
Eggplant Salad (Ensaladang Talong)
1 tbsp shoyu or soy sauce
1 tbsp distilled vinegar (or any variety of vinegar of your choosing)
2 tbsp lemon juice
1 large Roma tomato, deseeded and diced
1 medium-sized shallots, finely chopped
3 stalks spring onions, finely chopped + some for garnish
1 tsp ginger root, grated
2 tsp ground black pepper (add salt if desired)
2 tsp chili flakes + some for garnish
Eggplant Omelet (Tortang Talong)
3 large eggs, beaten
Pinches of Kosher salt and white pepper (black pepper works fine)
Dashes of spring onions and chili flakes (optional)
2 tsp sauteed vegetables (mix with 2 tbsp of egg mixture)
4-6 large shrimp, finely minced (you may also use ground pork, chicken, or any meat of your choice)
2-4 plies banana leaves, 10"x12" (optional)
1 tbsp extra virgin olive oil (canola or vegetable oil works fine) + some for drizzling
---
Item's you'll need
Grill
Thongs
Forks and spoons
Chopsticks
Plates
Bowls
Serving bowls (shallow with wide opening)
Measuring cups, spoons, containers
Large frying pan
Wooden spatula
---
Instructions
Grill the Whole Eggplants
Carefully pierce the whole eggplants on all sides (to enable them to vent while being grill) Be careful not to pierce your hand. In a preheated grill, place the whole eggplants at 400°F – 204°C and cook them for 10-12 minutes or until they are soft and the skins have blackened. Turn them occasionally or every 4 minutes. When they are collapsed and the meat becomes soft, transfer them to a plate. Allow to cool down for 10-15 minutes.
Make the Sauteed Vegetables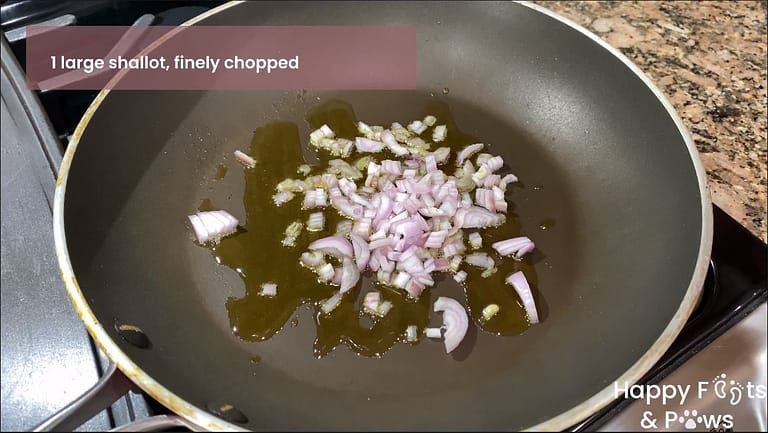 In a heated frying pan, heat some oil over medium-high heat. Saute the finely chopped shallot until translucent. Mix in the minced garlic and saute until fragrant. Mix in the diced tomato and saute until soft. Season with some Kosher and white pepper. Saute for another 2 minutes then transfer on to a bowl. Set aside for later.
Make the Eggplant Salad
In a large shallow bowl with a big opening, combine the shoyu or soy sauce, vinegar, lemon juice or calamansi juice, finely chopped shallot, cubed tomatoes, grated ginger root, and spring onions. Season it with ground black pepper (add salt as needed) and some chili flakes. Mix until well incorporated. Set aside for later. You may also refrigerate until ready to use.
Make the Eggplant Omelet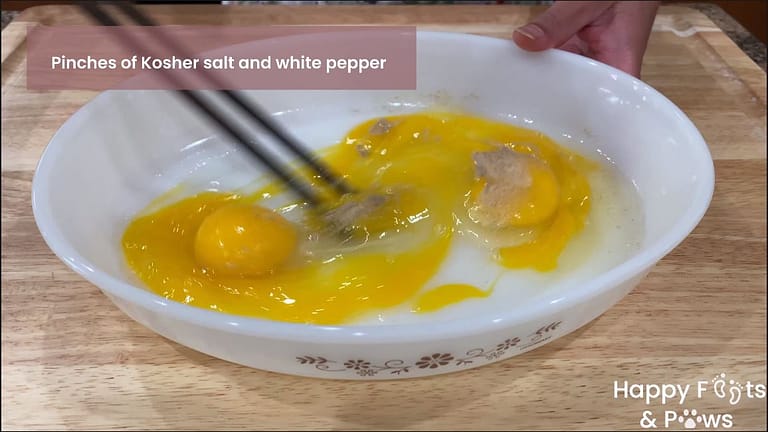 Using the same frying pan, deglaze it and heat some cooking oil over medium-high heat. Place the plies of banana leaves (you may leave them out using banana leaves if you don't have some). Drizzle more oil on the banana leaves as needed. Slow pour shrimp or sauteed vegetable mixture. Spread it out then carefully lower the coated eggplant. Pour the other shrimp or sauteed vegetable mixture. Cook this for 6-8 minutes or until all sides turn golden brown. Then slowly flip it over and cook the other for equal time. Use a flat spatula when transferring onto a plate so it does not break. Garnish with more spring onions.
Serve and Store
Place the eggplant omelet onto a clean plate and garnish with more spring onions. As for the eggplant salad, garnish with more spring onions and chili flakes. Serve them as an appetizer or side dish. You may also eat them as a full-on meal. Store the eggplant omelet and salad in an airtight container and refrigerate for up to 5 days. Enjoy!
Please consider subscribing to our channel to help support us.
---
Did you enjoy this recipe? Please leave a review.