I call this "Green Pasta" because of the luscious green Basil Pesto sauce. It is very easy with only a few ingredients in it. I used olive oil with pasta water as the base for the sauce. I added some bits and pieces of bacon for some fat but you may also put chicken breast. To add some nutty texture, I put some pine nuts but you may leave them out if you want. How about you join me in learning how to make this simply delicious pasta dish!
---
---
Ingredients
Basil Pesto Sauce with Bacon Bits
3 bacon strips (add more if desired)
3 tbsp extra virgin olive oil (you may also use butter if desired)
3 tbsp sweet onion, chopped (any type of onion works fine)
1 tbsp minced garlic
1/3 cup basil pesto (I used my leftover homemade basil pesto)
1/3 – ½ cup pasta water (adjust to your desired texture)
Garnish
Parmesan cheese (optional)
Basil leaves (optional)
Remainder of Ingredients
½ tsp salt
½ lb spaghetti noodles (I used whole wheat but use any variety and/or type you prefer)
Pinches of salt and ground black pepper (adjust to taste)
2 tbsp pine nuts roughly chopped + 1 tbsp for garnish (optional)
---
Item's you'll need
Large pot
Frying pan
Measuring cups, spoons, containers
Medium-sized or large mixing bowls
Wooden spatulas
Large strainer or colander
Chopsticks
Plates
---
Instructions
Cook the Bacon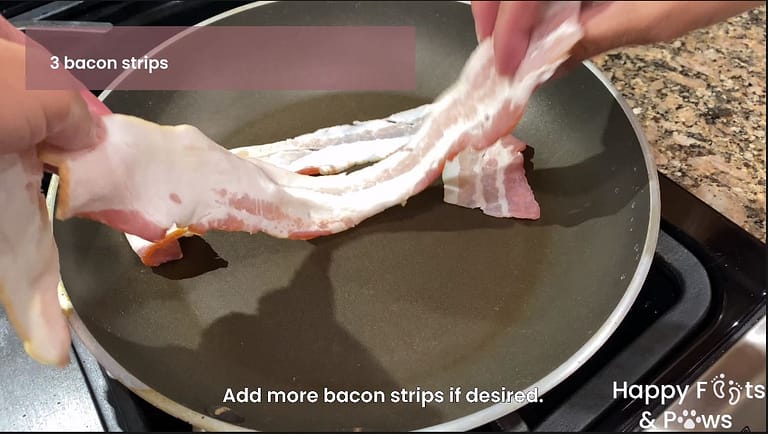 In a frying pan, cook the bacon strips over medium-high heat. Cook them for 3-5 minutes or until all sides are done. It's up to you if you want the bacon crispy or somewhat loose. Then place them on a paper towel-lined plate to drain the excess oil. Allow to cool down before chopping them into bits and pieces. Set aside for later.
Make the Bacon Bits in Olive Oil
Carefully de-grease the frying pan and heat some extra virgin olive oil over medium-high heat. Saute' the chopped sweet onion and minced garlic for 3-4 minutes or until your kitchen smells aromatic. Lower the heat to medium-low, add the bits and pieces of bacon. Cook for about a minute then turn the heat off. Set aside and allow it to cool down completely.
Cook the Spaghetti Noodles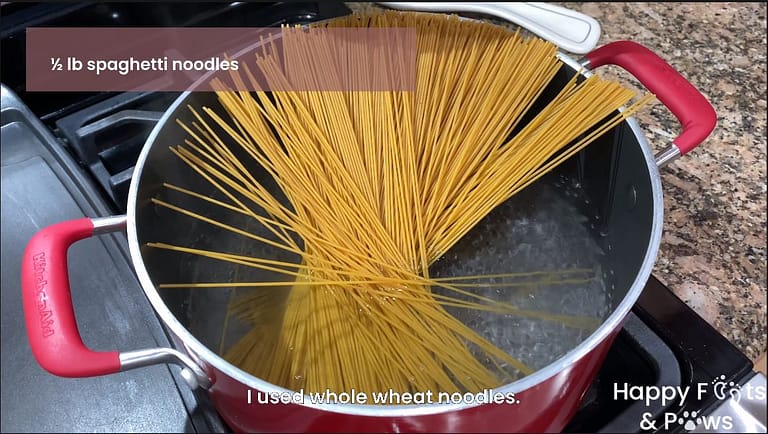 While the bacon bits in olive oil are cooling down, boil some water in a large pot over high heat. Dissolve some salt in the water. When it boils, decrease the heat to medium-high and carefully lower in the noodles (DO NOT break the noodles stick). Cook the noodles for 8-10 minutes or until they become tender but still firm. Lower the heat to medium-low and fish out a noodle. Take a bite to check if they are cooked or you may also snap one in half. The noodle should no longer have a white dot in the middle. When cooked, removed from heat. Save some of the pasta water. Set the pasta water to the side for later use. Then fully drain the noodles in a large strainer. Let the noodles sit for 1-2 minutes.
Mix the Basil Pesto Pasta
When the bacon in olive oil has cooled down, transfer it to a large mixing bowl. Mix in the Basil pesto (I used my leftover homemade basil pesto. Please check our video on how I made it). Mix well to well incorporate. Pour some of the pasta water (adjust to your desired texture) and mix well. Mix in the cooked noodles. Season with some salt and pepper (adjust to taste) and mix well. I enjoy that nutty texture to the dish so I added some pine nuts. You may leave this out if desired. While warm, put some pasta on a plate. Garnish with more pine nuts (optional) or some freshly grated Parmesan cheese. Top it with small basil leaves and enjoy!
---
Please consider subscribing to our channel to help support us.
---
Did you enjoy this recipe? Please leave a review.