Join me in learning how to make Champorado or Chocolate Rice Porridge. Just a quick trivia, the Filipino word "Champorado" was derived from "Champurrado" that Mexico introduced to the Philippines during the galleon trade. It's a Mexican chocolate drink.
This recipe is a traditional Filipino dish serve during breakfast or snack. Glutinous rice and cocoa powder or chocolate chips or bars are the main ingredients of this dish. It is very creamy and delicious especially with evaporated milk or condensed milk. If using condensed milk you may only need a little bit of it as it can get really sweet if you put too much. Back home in the Philippines use pure "tablea" or a molded nibs of fermented 100% cocoa without any additives or added ingredients. This is very easy to make and the ingredients can be found at your local grocery store. The glutinous or sticky rice can be bought online or at your local Asian store.
---
---
Ingredients
¾ cup glutinous rice
¼ cup jasmine rice
2 quarts drinking water (1 quart = 4 cups)
¼ tsp salt
10 oz bittersweet chocolate chips (I used the Ghirardelli 60% bittersweet chips. Chocolate bar works fine too)
10 oz cocoa powder, natural unsweetened (I used the Hershey's 100% Cocoa)
½ cup light brown sugar (brown, or granulated works just fine)
If you want to add toppings, I suggest:
Evaporated Milk, Condensed Milk, and or Half and Half.
Some people like to add fruits and berries or even some protein like dried seafood, pork, or chicken. But these are optional.
Items you'll need
Large pot with a lid
Wooden spatula and/or ladle
Measuring cups and/or bowls
---
Instructions
Cook the rice:
In a large pot, put ¾ cup of the glutinous rice. Add ¼ cup jasmine rice (optional as you may use glutinous rice all the way as personal preference). Rinse with for 3-4 times and place on the stove and set the heat to high. Add 2 quarts of drinking water and ¼ tsp of salt. Stir to dissolve. Cover and bring to a boil over high heat. Stir occasionally and check the rice at the same time. Cover and continue to cook for 30 minutes or until the water starts boiling. After 30 minutes or so check the rice to make sure it's cooked.
Melt the chocolate and mix: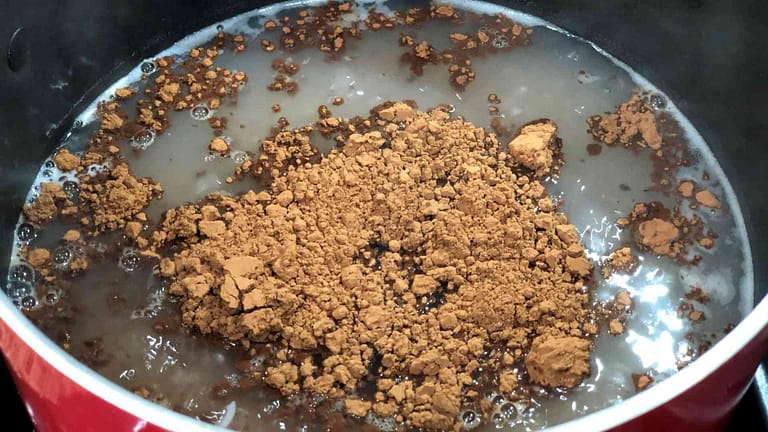 When the rice is completely cooked, add 10 oz of the bittersweet chocolate chips and 10 oz of the unsweetened cocoa powder. Stir vigorously until the chocolate chips and the cocoa powder are completely dissolved. Let it simmer for another 5-10 minutes or until the liquid has thickened to your desired consistency.
Add the sugar:
Then turn the heat to medium-low. Gradually add the sugar and taste it until you achieve the right sweetness to your liking. Add more sugar as needed.
Add toppings and Serve:
Then turn the heat off and serve while hot. You can top it with evaporated milk or condensed milk or even half and half. You may also add some fruits or side dish of protein like dried/fried seafood, pork, chicken or combo! Enjoy!
If you enjoyed this Filipino dish, check out my video on how to make Biko (Sweet rice cake).
Please consider subscribing to our channel to help support us.
---
Did you enjoy this recipe? Please leave a review. First time I had this in the Philippines and I was hooked. Thanks for showing me how to make it!