If you love Chicken Fajitas, this recipe will make you love this dish even more. The marinade gives that extra flavor especially if it's marinated overnight which is a MUST! The secret is what's in the fajita spice blend or the homemade fajita seasoning (please stay tuned for the next video on how to make the homemade seasoning). It is very aromatic and packed full of flavor! Make use of Mango Salsa to have that sweet ad savory texture to it. I've included step-by-step instructions on how to make them. If you want the Mango Salsa to be extra spicy add more jalapeño or use chipotle peppers (red jalapeño peppers). Join me in learning how to make Chicken Fajitas!
---
---
Ingredients
Mango Salsa
2 medium-sized mango, ripe and chopped (any varieties works fine so long as they are ripe)
2 Roma tomatoes, seeded and diced
1 large shallot, chopped (you may also use red onions)
2 medium-sized jalapeño (or chipotle) peppers, seeded and diced
2 tsp minced garlic
¼ cup cilantro, finely chopped
1 small lime, freshly squeezed
3 tbsp extra virgin olive oil
½ tsp kosher salt
½ tsp ground black pepper
Sour Cream Mixture
1 ½ cup sour cream (add more as needed)
1/3 cup milk (I used 2% reduced-fat milk)
1 tbsp minced garlic
¼ cup cilantro, finely chopped
Fajita Spice Blend or Seasoning (mix well)
1 tsp cumin
2 tsp chili powder
1 tsp paprika
½ tsp garlic powder
½ tsp onion powder
½ tsp cayenne pepper (adjust the amount if you want it extra spicy)
1 pinch Kosher salt • 1 tsp brown sugar (optional)
Remaining Ingredients
2 lbs chicken, ½-inch thick (I used chicken tenders and thighs)
1 large sweet onion, thinly sliced
1 large green, red, orange bell peppers, (1 of each) seeded and cut into strips
6 celery stalks, thinly sliced
2 tbsp olive oil
1-2 pinches of Kosher salt
1-2 pinches of ground black pepper
10-12 flour tortillas
---
Item's you'll need
Blender
Mixing bowls
Measuring cups, spoons, containers
Cutting board
Knives
Large iron skillet (12-inch)
Wooden and silicone spatulas
Thong
Serving plates
---
Instructions
Make the Mango Salsa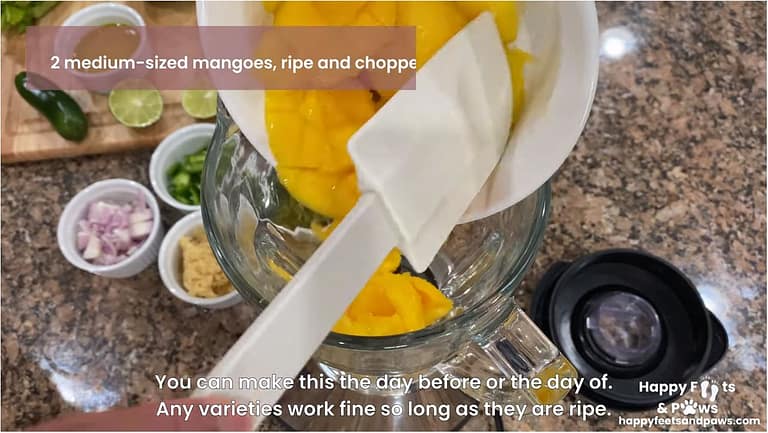 In a blender, combine the chopped mangoes, tomatoes, shallots, jalapeño or chipotle peppers, minced garlic, cilantro, freshly squeezed lime, olive oil, then salt and pepper. Puree or pulse to your desired consistency. Stop at any time to push the ingredients to the bottom. Then continue to blend as needed. Transfer into a bowl. Allow chilling in the fridge until ready to use. You can make this the day before or the day of.
Make the Sour Cream Mixture
In a bowl, combine the sour cream, milk, minced garlic, and cilantro. Mix until well blended. Put in the fridge to chill until ready to use. You have the option to make this the day before or the day of.
Marinate the Chicken
In a large vacuum seal or Ziploc bag, combine the olive oil, shoyu or soy sauce, minced garlic, dried or fresh parsley, and the homemade fajitas spice blend or seasoning (see my video on how to make homemade fajita spend blend or seasoning). Mix well until well combined. Put the pieces of chicken. Close the bag properly to prevent spillage. Mix and shake well until chicken pieces are well coated. Then release air and seal or vacuum seal it. Marinate overnight.
Cook the Chicken Fajitas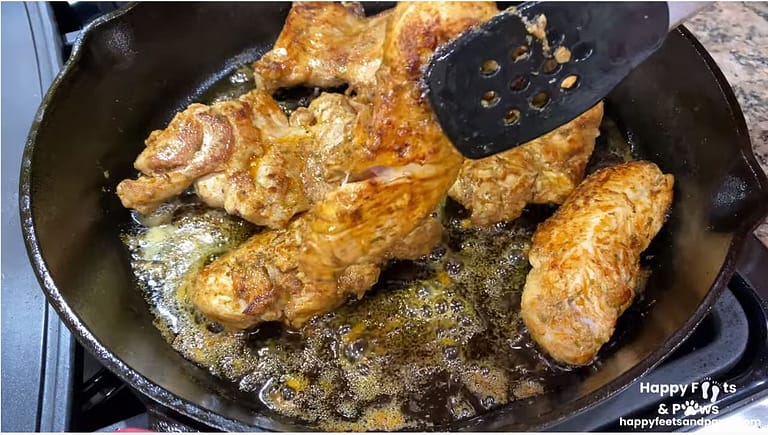 The following day, cut the vegetables into strips and set them aside. In a large iron skillet, heat up oil over medium-high heat. Carefully put the chicken but do not overcrowd. Cook for 5 to 10 minutes on each side or until all sides are golden brown. Then remove from pan and slice them into strips. Set aside for later use. Using the same iron skillet with the cooking oil, put the vegetables and sprinkle some pinches of salt and pepper. stir-fry them for 5 to 10 minutes or until soft but still crunchy. Add the cooked chicken. Stir until well combined. Cook for 5 more minutes then turn the heat off.
Assemble and Serve
On a griddle or frying pan, warm up some flour tortillas over medium-low heat until soft and warm to the touch. Then place them on a plate and generously put some chicken with vegetables (as much as you want). Top with some mango salsa and sour cream mixture. Serve warm and enjoy!
Please consider subscribing to our channel to help support us.
---
Did you enjoy this recipe? Please leave a review. Living in Arizona I have had opportunity to eat fajitas often at gatherings, restaurants, and have had many family recipes. I was amazed with this recipe and how it surpassed any other fajitas I have ever had. This is a very authentic recipe that you definitely must take the time and make the effort to make. You will be ruined for any other. Its so good as you prepare it you can hardly wait until its time to eat and neither will your friends and family!