Looking for a great breakfast idea? Try my Denver omelet recipe! In this video, I walk you step by step on How to Make a Denver omelet. Let's do this!
When we found out about Muenster cheese first thing that came to mind was OMELET. Therefore, we made Denver Omelet because you can add ham as a filling along with the cheese and the sautéed onion, tomatoes, and bell pepper. Muenster cheese is the star of this dish, so I recommend using this cheese, trust me you will not be disappointed.
---
You can get Muenster cheese at the Deli section in your local grocery store. We were told by the lady at the Deli counter that you can only get Muenster at the Deli because the cheese comes in huge blocks. The number of spring onions and the tomatoes, onions, and green bell pepper mixture can make 2 to 4 omelets using 2-3 eggs for each.
---
Ingredients
2 large eggs, beaten
4-5 stalks of spring onions or chives, finely chopped
1-2 tbsp cooking oil (I used canola oil) + a spray of canola oil or more cooking oil as needed
2 medium-sized Roma tomatoes, cut into small cubes
1 medium-sized green bell pepper, cut into small cubes
½ of a medium-sized red onions, finely chopped (any type of onions work just fine)
1 pack (8 Oz) pre-cooked cubed ham (I prefer the vacuum-sealed Smithfield brand) • Salt and pepper to taste
---
Instructions
Prep:
Cut the onions, green bell pepper, and tomatoes into small cubes and put them in one mixing bowl. Finely chopped the spring onions and put them in a separate bowl.
In a small mixing bowl crack 2 large eggs. Season with salt and pepper to taste. Whisk thoroughly and add about 1-2 tbsp of finely chopped spring onions or chives. Set aside for later.
Cook: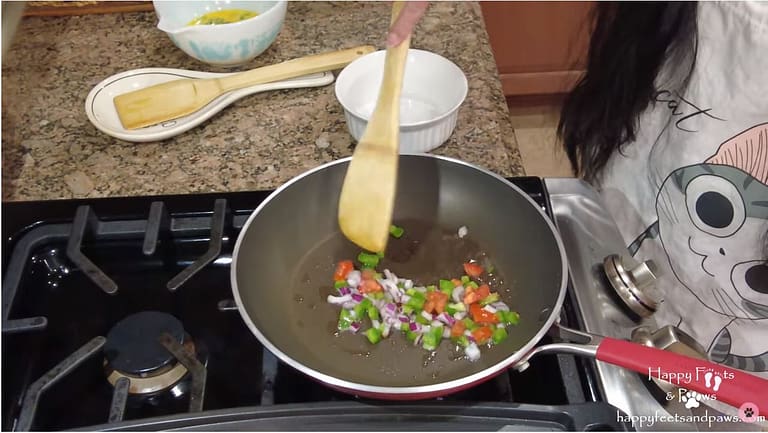 To cook, heat up a frying pan over medium-high heat for 3 minutes. Put a tablespoon of cooking oil. Coat the pan thoroughly and heat it up for 2 more minutes. Add the tomato and onion mixture. Saute' for 3-5 minutes or until the tomatoes are soft and the onions become aromatic. Add the pre-cooked cubed ham. Stir to combine. Cook it for 2 minutes or until the ham turns light brown. Remove from heat, transfer into a small bowl, and set aside.
Use the same frying pan and the leftover cooking oil. Add cooking spray or more cooking oil as needed. Turn the heat to medium-low and heat it for a couple more minutes. Pour the eggs and let them settle. Cook it for 30-60 seconds or until the liquid on top solidifies and the color changes. Add the muenster cheese generously. Then add the sauteed ham mixture on top of the cheese. Add another layer of cheese on top of the ham. Then carefully fold the eggs in half using a wooden ladle or flat spatula. Set the heat to low and cook it for 1 more minute or until the cheese melts. After a minute sprinkle with spring onions and transfer onto a plate.
Serve:
Garnish with more spring onions and serve while warm, enjoy!
If you enjoyed this classic American dish try my mashed potato recipe.
Did you like this recipe? Please leave a review.