Mashed potatoes are a classic American dish. Its main ingredients are potatoes and milk. Usually served on special occasions like Thanksgiving, Christmas, and other holidays. I discovered that my husband makes creamy and delicious mashed potatoes. So from then on, he's been the designated Mashed Potatoes dude on any holidays in hour household. ;-P.
You can find the ingredients for this awesome dish in your local grocery store. So drop what you're doing right now and let's all learn how to make my husband's America Classic Mashed Potatoes.
---
---
Ingredients
8-10 large russet potatoes
2-4 gallons water, at room temperature (for soaking the potatoes)
3-4 quarts water, at room temperature (for boiling the potatoes)
1 can (fl oz) evaporated milk
¾ tbsp salt
¾ tbsp black pepper
1 stick salted butter (divided)
---
Things you'll need
Peeler
Cutting board
Knives
Large Mixing bowl
Large pot
A stand mixer (you may also use a potato masher if preferred)
---
Instructions
Skin the potatoes: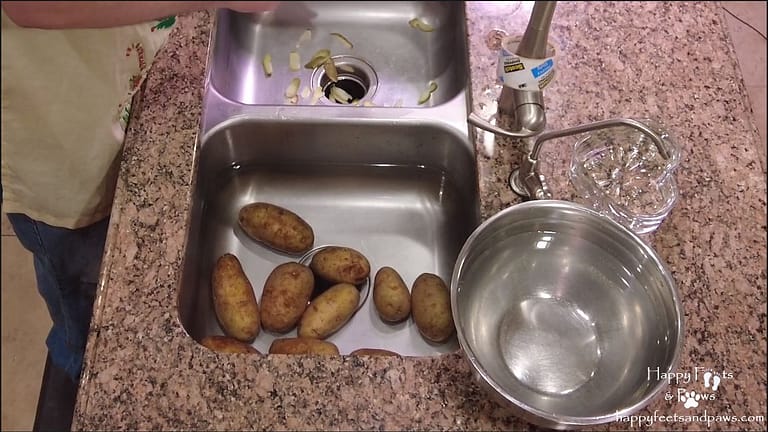 Put 2-4 gallons of water in the sink. Soak and clean 8-10 russet potatoes. Using a peeler, peel each potato and soak them in a separate mixing bowl with water (preferably drinking water). Cut them into 1″ chunk. Make sure to put the wedges of potatoes back into the water to prevent them from darkening. Set aside for later.
Cook the potatoes: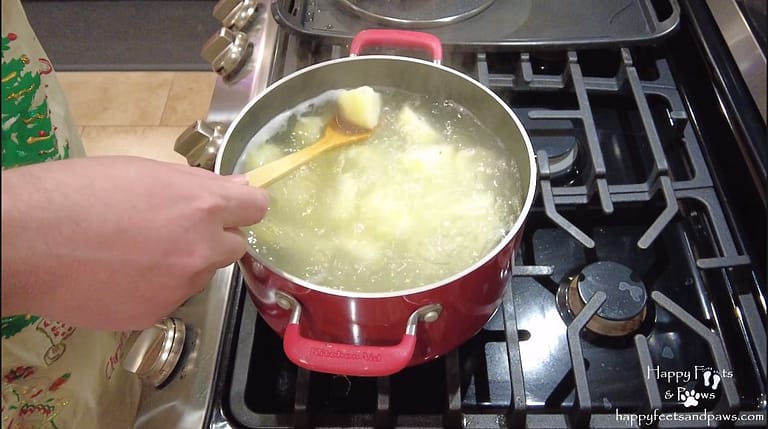 In a large pot, boil 3-4 quarts of water over high heat. When water is boiling add the wedges of potatoes, mix them around and scoop out some water to prevent a boil over. Cover and let it boil for 20-30 minutes over medium heat or until cooked.
Prep:
Meantime, in a separate mixing bowl, pour 1 can of evaporated milk. Add 3/4 tbsp of salt and 3/4 tbsp of black pepper. Then add 6 tbsp of salted butter. Put the remaining butter to the side for later.
Mix: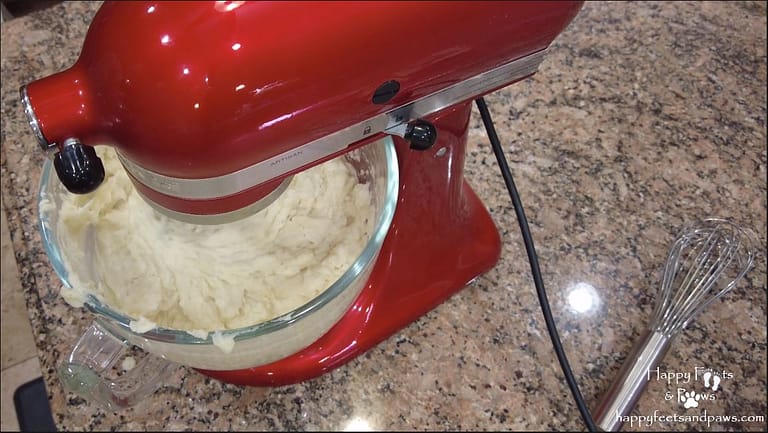 After 25 minutes, fish out a wedge of potato and check to see if it's soft all the way through. When cooked, turn the stove off. Drain the water and transfer the cooked potatoes into the milk mixture. Set it up in the stand mixer. Attach the wire whip and begin mixing over low speed. Increase the speed as necessary until it becomes soft. Occasionally stop the mixer and push the potato towards the center then continue to mix. Add the remaining butter into the bowl but you can make it how you like it. Continue mixing until the mashed potato becomes soft and creamy.
If you enjoyed this classic American dish. Check out our video on how to make Pasta Salad.
Please consider subscribing to our channel to help support us.
---
Did you enjoy this recipe? Please leave a review.