Very easy Hawaiian Spinach Salad with homemade Sun-dried Tomato Vinaigrette dressing. Perfect as an appetizer. The homemade Sun-dried Tomato Vinaigrette aroma is very appealing. Do not skip this part nor use a ready-made dressing. If you want the dressing to be less sour, you can add 2 tbsp of the red wine vinegar and a tablespoon as needed. You may also garnish with any nuts if preferred. Join me in learning how to make this simple and healthy Hawaiian Spinach Salad!
---
---
Ingredients
Sun-Dried Tomato Vinaigrette
1/3 cup sun-dried tomatoes in olive oil, finely minced
2 tbsp Dijon mustard (I used Grey Poupon)
2 tbsp dried basil
2 – 3 tbsp red wine vinegar (gradually pour as needed)
Dash of Kosher salt and freshly ground black pepper (adjust to taste)
5 – 6 tbsp oil from sun-dried tomatoes (pour gradually while mixing)
1 tsp sugar or honey (adjust to taste)
Spinach Salad
3 oz baby spinach (or regular spinach)
¼ small red onion, thinly sliced
2 tbsp sun-dried tomato vinaigrette (from the above homemade dressing)
2 cherry tomatoes, quartered
1 tbsp feta or goat cheese crumbles
---
Instructions
Make the Sun-Dried Tomato Vinaigrette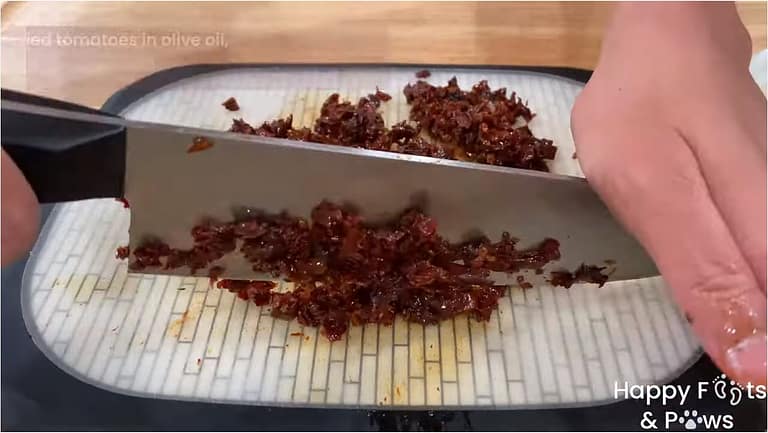 Finely minced the sun-dried tomatoes and place them in a medium-sized non-reactive bowl, put the rest of the ingredients except olive oil and sugar or honey. Whisk with a wire whip until well blended. Slowly pour the oil until fully incorporated. Add the sugar (or honey) and mix well. Do a taste test and add more sugar (or honey) as needed. Set aside for later.
Combine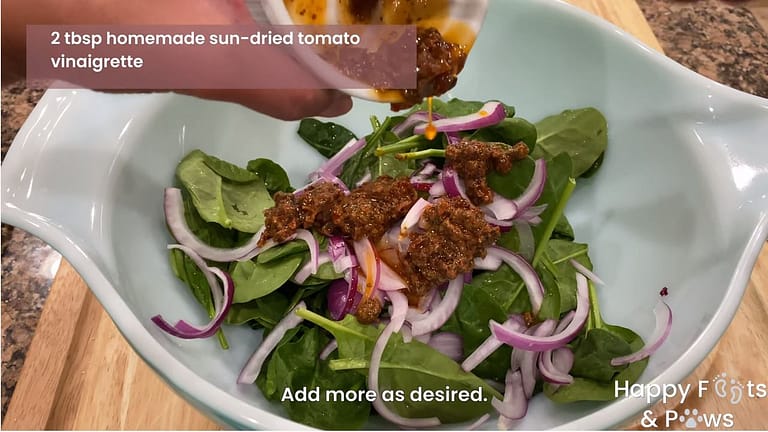 In a large bowl or salad bowl, place the baby spinach and slices of red onions. Add the sun-dried tomato vinaigrette dressing and toss until well combined. Place onto a plate and garnish with feta or goat cheese and cherry tomatoes. Drizzle a little more dressing to the cheese and tomatoes. Enjoy!
Please consider subscribing to our channel to help support us.
---
Did you enjoy this recipe? Please leave a review.