This homemade Sun-dried Tomato Vinaigrette dressing is very easy to make. Make sure to use sun-dried tomato in olive oil as you will also need the oil for the recipe. In addition, it will taste better if you use the oil that was used to soak the sun-dried tomatoes as it gives a more flavorful taste and the aroma is more appealing. Finely minces the sun-dried tomatoes to easily blend with the other ingredients. Gradually add the red wine vinegar if you want to make the dressing less sour and just them to your taste. Using some sugar or honey will balance out the red wine vinegar. You may also add extra sun-dried tomato oil if desired. Come join me in learning how to make this amazing dressing.
---
---
Ingredients
1/3 cup sun-dried tomatoes in olive oil, finely minced (I used Mezzetta)
2 tbsp Dijon mustard (I used Grey Poupon)
2 tbsp dried basil
2 – 3 tbsp red wine vinegar (gradually pour as needed)
Dash of Kosher salt and freshly ground black pepper (adjust to taste)
5 – 6 tbsp oil from sun-dried tomatoes (pour gradually while mixing)
1 tsp sugar or honey (adjust to taste)
---
Instructions
Prepare the Sun-dried Tomatoes
Remove the soaked sun-dried tomatoes from the bottle without the olive oil. Place them on a cutting board and finely minced all of them. Set aside.
Make the Sun-Dried Tomato Vinaigrette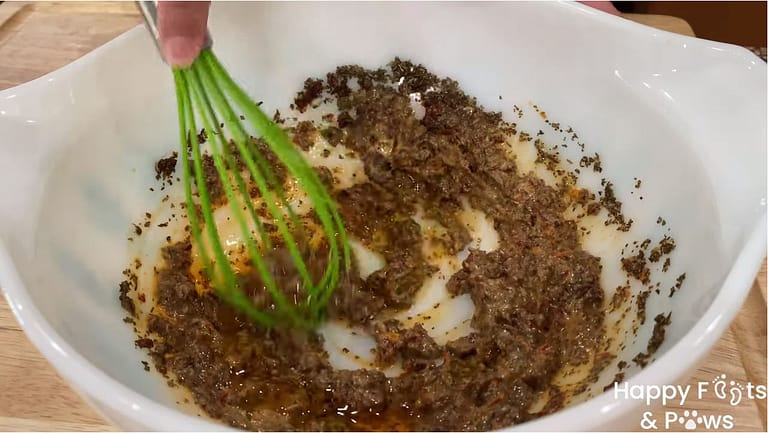 In a medium-sized non-reactive bowl, place the finely minced sun-dried tomatoes. Add the rest of the ingredients except olive oil and sugar (or honey). Whisk with a wire whip until well blended. Slowly pour the sun-dried tomato oil until fully incorporated. Add the sugar (or honey) and mix well. Do a taste test and add sugar as needed. Store in an airtight container and refrigerate for up to 3 days. Enjoy!
Please consider subscribing to our channel to help support us.
---
Did you enjoy this recipe? Please leave a review.