Come join me on how to make shepherd's pie from my husband. When my husband made his first Shepherds Pie for me when a long time ago (back in Hawaii) and I thought it was the greatest mashed potato I've ever tasted. I have been requesting him to make some every time I crave for it since. He learned how to make this classic American dish from his sister. It became a family recipe that he and his sister are the "expert". All of the ingredients of this mouthwatering dish can be purchased at your local grocery store. Join me in learning how to make Shepherd's Pie courtesy of my awesome husband!
---
---
Ingredients
1 lb ground beef
One 3-5 lb bag potato, peeled and cut into wedges
1/2 to 3/4 of the medium-sized onion, roughly chopped (we prefer sweet onions)
1 can evaporated milk (12 FL OZ)
1 can cream of mushroom condensed soup (10 1/2 OZ)
2 cups mixed cheese, grated
1 can corn (15 OZ)
6 tbsp softened butter, sliced (salted or unsalted works fine)
salt and pepper to taste
---
Instructions
Peel and cook potatoes:
Rinse the potatoes. Peel and place them into a bowl with water. Cut the potatoes into wedges. Make sure to put them back into the bowl with water to prevent them from turning brown. Boil about a gallon of water in a large pot. When water is boiling put the potatoes (drain the water first before placing in the pot). Boil for 10 to 15 minutes. Stir occasionally. Get a sample to check if it is soft. When cooked, slowly drain the water and set it aside.
Cook the meat:
In a pan, cook the meat over medium-high heat until golden. When cooked, drain the excess oil and set aside for later.
Cook the corn: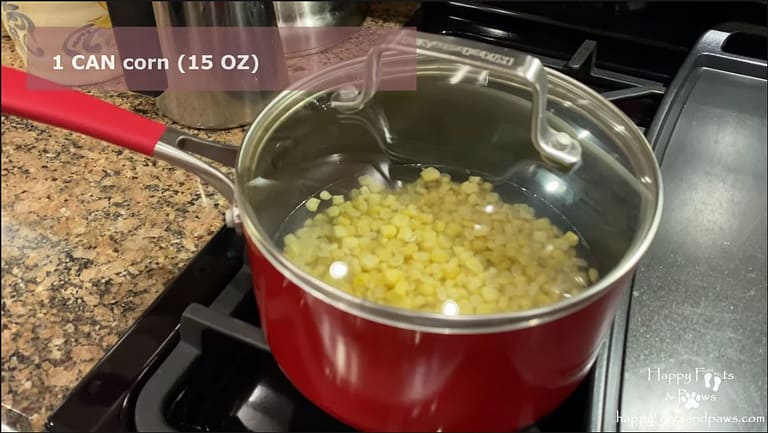 Open the can of corn and drain the water. Pour the corn in a saucepan with 1 to 2 cups of water. Cook it over medium to medium-low heat. Season with salt and pepper (adjust to your liking). Stir to combine. When cooked, turn the heat off and set it aside for later.
Grease glassware and mix ingredients: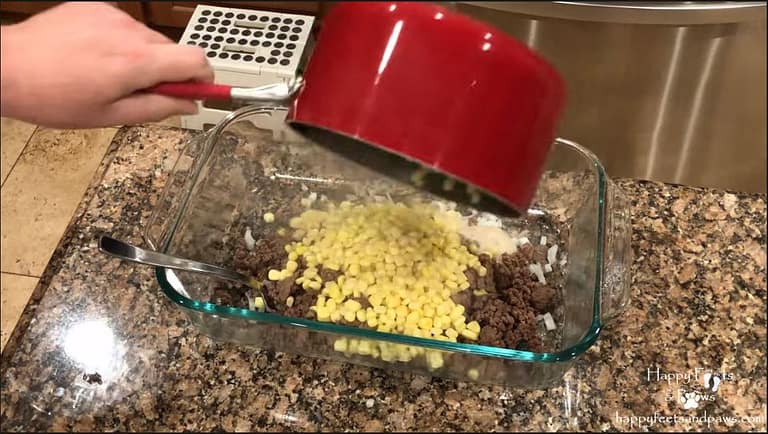 Grease a 9″x13″ glass bakeware. Put the chopped onions, cooked meat, cream of mushroom, and cooked corn. Mix well and spread it evenly. Set aside for later.
Make mashed potatoes:
In a large bowl, add the butter. Pour about 1/2 to 3/4 cup of the evaporated milk. Add salt and pepper to taste (adjust to your liking). Put the cooked potatoes. Using a stand or hand mixer begin mashing the potatoes at medium speed for about 5 to 10 minutes or until finely mashed and creamy. Gradually add the remaining evaporated milk. Occasionally push the potatoes to the center. Add salt and pepper as needed (adjust to your liking). Mix again and increase the speed to medium-high for about 3 to 5 minutes. Finally, scoop a spoonful and do a taste test to make sure it is creamy and delicious (to your liking). When the mashed potato is done go ahead and add it to the beef mixture. Evenly layer and scatter the mashed potato. Top with mixed cheese.
Bake: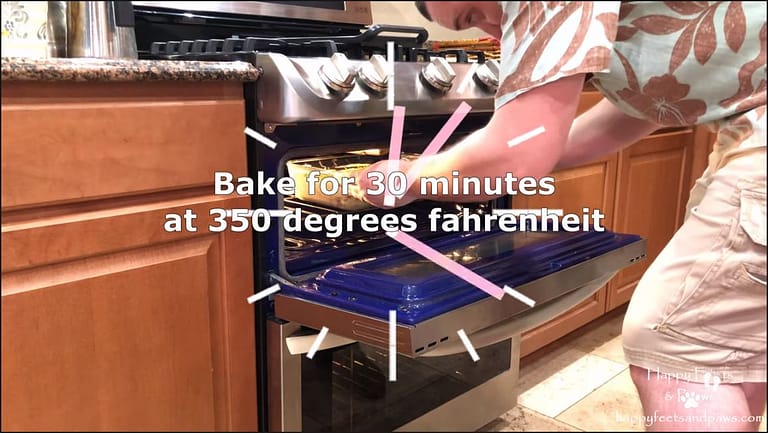 In a pre-heated oven, bake the shepherd's pie for 30 minutes at 350°F/176°C. When done, remove from the oven and let it cool for 10 to 15 minutes. Serve warm and enjoy!
If you enjoyed my husband's dish. Check out his other video on how to make black bean salsa.
Please consider subscribing to our channel to help support us.
---
Did you enjoy this recipe? Please leave a review. So easy to make. My kids love this recipe! They always want extra cheese! Thank you for sharing this home-made recipe!