Come join me and let us all learn how to make Black Bean Salsa! My husband made his best salsa recipe yet! He learned about it from when he went floating down the Smith River in Montana. One of the guys on the trip brought it along and he was instantly hooked. I love how it's sweet and sour plus has a little bit of kick from the jalapeño. I cannot stop eating it with my favorite blue corn chips. You will salivate and want to make it yourself! ;-P
Almost all of the ingredients are from Walmart (pickup, the new norm) although we already have black beans (S&W organic black beans brand) from when we went to Costco I think last year if I am not mistaken.
---
Notice a new voice? If you enjoyed us teaming up on videos leave a comment down below. We all appreciate your support!
---
Ingredients
1 large tomato, cut into small cubes (we used the beefsteak slicing tomato, any types of tomato will work just fine)
1/2 of a medium-sized onion, chopped (we used sweet onion as personal preference)
1 large green bell pepper, cut into small cubes
1/2 bunch cilantro, finely chopped
1 can of black beans (we used the organic but regular is just fine)
1 cup sweet corn, boiled to cook
Dressing:
2 medium-sized jalapeño, seeds removed
One tbsp minced garlic
1 1/2 cup balsamic vinaigrette (we use the Kraft Balsamic Vinaigrette (16 FL OZ)) + 1/2 (for mixing)
1 medium-sized lime
---
Instructions
Chop the Vegetables: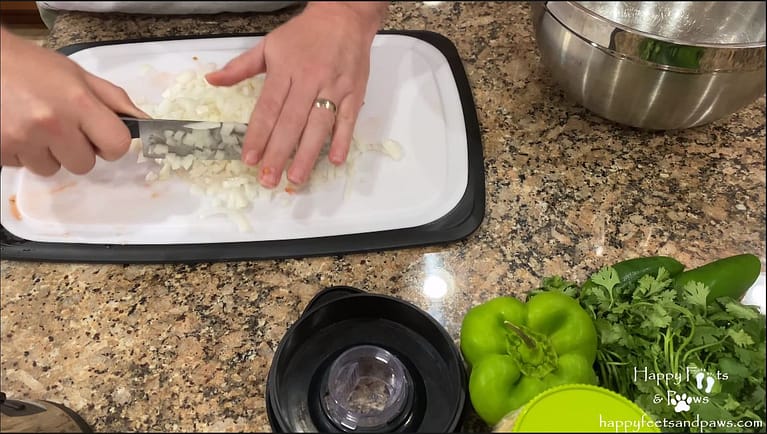 Prepare and cut all the ingredients. In a large bowl, place the tomatoes, onions, green bell peppers, cilantro, and black beans. Make sure to cook your corn if not already pre-cooked.
Blend the ingredients:
To make the dressing, combine the jalapeño, garlic, and the balsamic vinaigrette in a blender. Puree the dressing until it liquifies. Once those ingredients are blended go ahead and squeeze in 1 medium lime and then blend again to combine.
Pour into a bowl and refrigerate:
Pour the dressing into the bowl. Mix well. Best if refrigerated for 1 day. (gives time for the flavors to blend) Enjoy your Black Bean Salsa with your favorite tortilla (blue, white, or yellow) or potato chips!
Please consider subscribing to our channel to help support us.
---
Did you enjoy this recipe? Please leave a review. I was skeptical when I read your recipe with balsamic vinaigrette... But we decided to give this a try. WOW! This is probably the best salsa we have ever had. We've made it at least 3 times already. So yummy!