Let's learn How to Make Ginisang Munggo or Mung Beans. Ginisang Munggo is one of my favorite dishes. My husband knows I love to make this dish so he bought me a big bag of the organic kind from Costco, hahaha. I still have some left in my pantry. I like making munggo with fried fish. Top it with chicharon or pork rinds if you have some. Back home we usually put moringa or malunggay leaves. Sometimes we would use smoked fish, dried fish, pork belly and/or pork rinds. Others would even put coconut milk in their mung beans soup. Join me in learning how to make Ginisang Munggo.
You can get mung beans from your local Asian store. If you cannot find any you may buy them online. Whole Foods Organic Mung Beans.
I dedicate this video to my late auntie, who we call mommy Emma (my mom's sister). She passed away last Tuesday, 09/08/2020. I will never forget how I would go to her store to check out the menu of the day. I would always order her ginisang munggo. She would always give me an extra scoop of munggo or sometimes she would give me free fried fish on the side, hehe ;-P. Our entire family will miss her dearly.
---
---
Ingredients
2 cups mung beans (munggo)
3 tbsp cooking oil (for saute'ing/frying)
2 medium-sized shallots, chopped
5 cloves garlic, roughly minced
2 medium-sized Roma tomatoes, chopped
4 cups chicken stock (water is just fine)
2 tbsp fish sauce (adjust to your liking)
1 tsp ground black pepper
10-12 pcs shrimp (I used the tail-on shrimp, optional)
1 cup fillet fried fish (I used whole tilapia, any fish or pork and/or pork rinds work fine) 1 cup bok choy (optional)
2 cups baby spinach (you can use moringa or malunggay if available)
3 stalks spring onions, chopped (for garnish)
---
Instructions
Cook Mung Beans: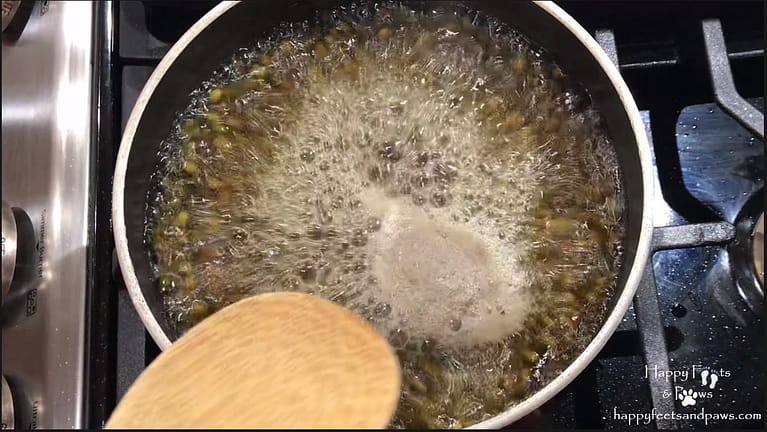 In a medium-sized pot, put 2 cups of mung beans. Rinse for 3 to 5 times or until water is clear. Add 5 to 10 cups of water. bring to a boil over high heat for 45 minutes to an hour. Lower the heat to medium-high. Remove froth that floats to the top. Stir occasionally to prevent burning. Add water as necessary until mung beans are cooked. Turn the fire off. Let the mung beans cool, and set them aside for later.
Cook Shrimp: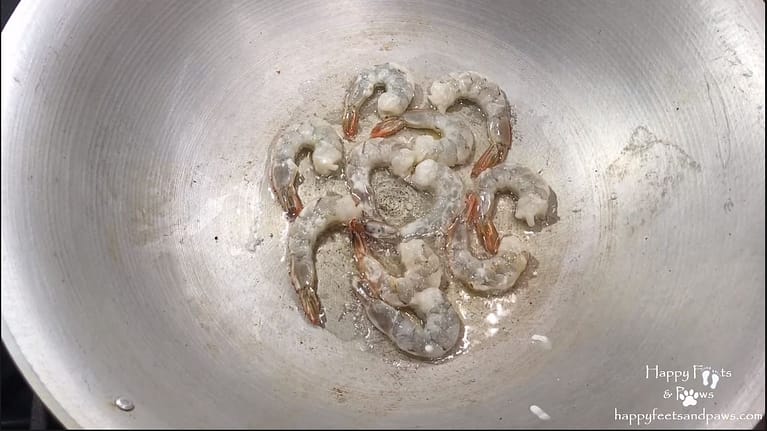 To cook the shrimp, place 10 to 12 pcs of shrimp in a bowl. Add 1 tbsp of corn flour (corn starch). Mix until shrimp are coated. In a wok or large pot, put 3 tbsp of cooking oil over medium-high heat. slowly put the shrimp (one at a time) cook for 1 to 2 minutes or until golden. Flip it over and cook the other side for equal time. Remove and place the cooked shrimp in a clean plate or bowl, set aside.
Saute the Vegetables:
Using the same wok or pot (with the oil) add shallots. Saute' until translucent. Add the garlic and saute' until aromatic. Next is the tomatoes, saute' until it becomes soft. Then add the cooked mung beans. Stir it to combine. Simmer for 3 to 5 minutes. Pour 4 cups of chicken stock or water, stir to combine. Let it simmer for 15 to 30 minutes or until sauce thickens. Stir occasionally.
Combine Ingredients:
Season with 1 tbsp of fish sauce and 1 tsp of ground black pepper. Stir to combine. Add the cooked fillet fish and shrimp. Stir to combine. Put the bok choy and baby spinach. Simmer for 2 more minutes and turn the fire off. Sprinkle with spring onions.
If you enjoyed this Filipino dish, Check out my other Filipino dish Steamed Leche Flan
Please consider subscribing to our channel to help support us.
---
Did you enjoy this recipe? Please leave a review. I used to live in the Philippines as a kid. I remember having this dish and was wondering how to make this. I found your site and was pleasantly surprised to see it! This recipe brought me back to my childhood. Thank you so much for your detailed video. I found it very easy to make this dish with your walk through steps.