One of our viewers requested that I make Thai Chicken Fried Rice. Not only is it my first time making Thai Chicken Fried Rice with Basil. But it was my husband and I's first time eating it as well. We really appreciate you, the viewers suggesting dishes and look forward to making more dishes that we have not eaten before. So if you have a dish that you love will you please share it with us?
If you enjoy making Thai dishes often, we recommend growing your own basil. We use an Aero garden and our basil is now over a year old. Also, I made some minor changes with the ingredients and made use of whatever I have available in my kitchen.
P.S. – I made some typo with the ingredients on the video so please refer to the correct info below. My apologies.
---
---
Ingredients
1 lb Chicken, thinly sliced (I used chicken tenderloins but it's personal preferences)
2 ½ tbsp Cooking oil for frying (Canola, corn, vegetable or olive oil works fine)
1 Medium-sized onion, sliced (I prefer sweet onion)
6 cups cooked rice (I prefer a day old jasmine rice)
1 cup Basil (I used sweet and lime basil as it is what we grow in our aero garden)
4-6 Crispy fried eggs to place on top to serve
1 Small lime, cut into a wedge to serve (optional)
Marinade Sauce
2 ½ tsp Fish sauce
½ tsp White ground pepper
Chilly (Jalapeño) and Garlic Paste
5 cloves Garlic, roughly chopped
1 Medium-sized jalapeño, roughly chopped (I use jalapeño for MILD heat but if you wish
hotter use the bird's eye)
½ tsp Salt (I used iodized salt, sea or rock salt works just fine)
Stir-fry sauce
⅓-½ cup Oyster sauce
1 tbsp Shoyu or soy sauce (I used regular soy sauce but the original recipe called for Chinese
light soy sauce I included the link below)
1-1 ½ tbsp Fish sauce
1 tbsp Sugar (white, brown, granulated is fine)
---
Instructions
Cut the chicken:
Cut the chicken into small thin slices. Place into a medium-sized bowl. Add fish sauce and white ground pepper. Mix until chicken is well coated. Set aside for later use.
Separate rice grain:
Using a fork, separate the rice grain to prevent clumping. This will also make it easier to mix with other ingredients. Set aside until ready to use.
Prepare stir-fry sauce:
Prepare the stir-fry sauce by combining the oyster sauce, shoyu, fish sauce, and sugar. Mix well and set aside for later use.
Prepare paste:
I do not have mortar and pestle. Therefore, I used a small food processor to make the paste. Combine the garlic, jalapeño, and salt. Pulse for 1 to 2 minutes or until a coarse paste is formed. Set it aside for later.
Fry the eggs: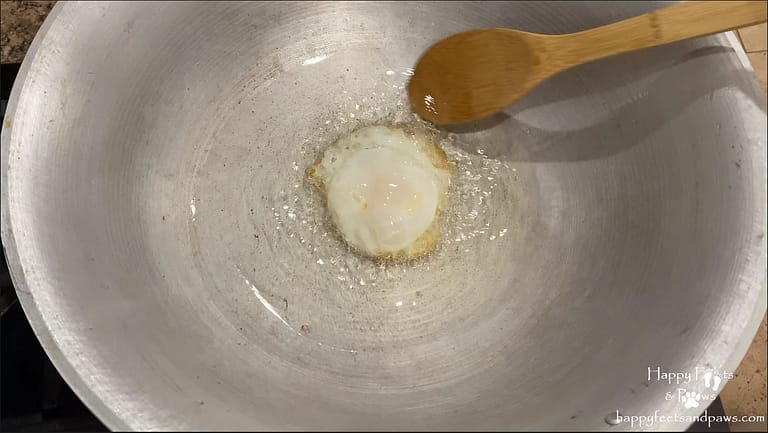 In a wok or pot, heat the oil over medium-high heat. When the bubble starts to form around the dipping stick, slowly crack the egg in the middle. Using a wooden ladle or spatula, slowly scoop and pour the oil in a circular motion around the egg to cook the middle. When sides turn golden brown, slowly tip the egg sideways to remove the excess oil. Place it on a paper towel-lined plate.
Cook:
Using the same wok or pot and oil, add the sliced onion, saute until translucent. Then saute the paste for 1 to 2 minutes or until aromatic. Next cook chicken for 3-5 minutes or until it turns light brown. Stir occasionally to it prevent burning. Then add the rice. Stir to combine. Pour the stir-fry sauce. Stir until well combined and the rice is evenly colored. Lower the heat to low and put in the basil. Give it a good mix and turn the heat off.
If you enjoyed this Thai Dish. Check out our video on how to Make Thai Green Curry from scratch.
Please consider subscribing to our channel to help support us.
---
Did you enjoy this recipe? Please leave a review. Thank you for walking me through this! This pandemic has made getting good Thai food so difficult. Now I feel like I can make this at home whenever my family wants. Thank you!