My husband and I love Thai cuisine. We always ate at authentic Thai restaurants back in Hawaii. Because we are unable to go out to dine and because I am craving for curry. I made a homemade Thai Green Curry. When I make Thai Green Curry I usually add bamboo shoots and eggplant with any variants of the basil. I lack these ingredients today, therefore I used red potatoes. You can add any vegetables you prefer. Our curry was a bit spicy. If you like it more mild feel free to leave the hot peppers out of the ingredients.
Come and join me in learning how to make Thai Green Curry!
If you enjoyed making this dish with me please leave me a comment. If you want to learn how to make more fun dishes check out how to make Filipino Biko (Sweet rice cake)
---
---
Ingredients
1-2 lbs Bite-sized chicken and/or pork (I used tenderloins, thighs, and pork chops)
2 small-sized Shallots, roughly chopped
3-5 cloves Garlic, roughly chopped
2 thumb-sized Ginger, minced and cut into chunks
2 tbsp Green curry paste (I used the Mae Ploy brand)
1-2 tbsp Cooking oil (Canola, Vegetable or Olive oil)
1 cup Red or russet potatoes, cut into cubes
1/4 cup Serrano peppers (optional, any peppers will do)
1-2 tbsp Fish sauce (I prefer Rufina or Thai Kitchen brands)
1 tbsp Sugar (brown, granulated or palm sugar)
2 cans Coconut milk (14 Fluid Ounces per can, I prefer the Ckaokoh or Thai Kitchen brands)
1 cup of water
1-2 cups Basil (I combined the holy, lime, and sweet basil)
---
Instructions
Prep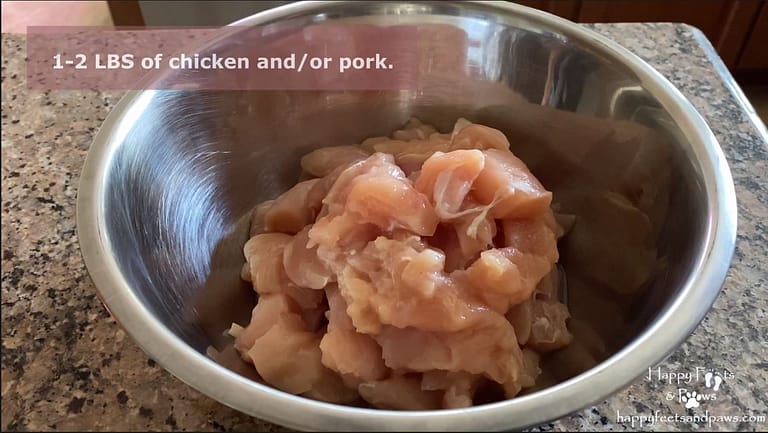 Cut the meat into bite-sized pieces. Prepare the rest of the ingredients ahead of time.
Saute' the Ingredients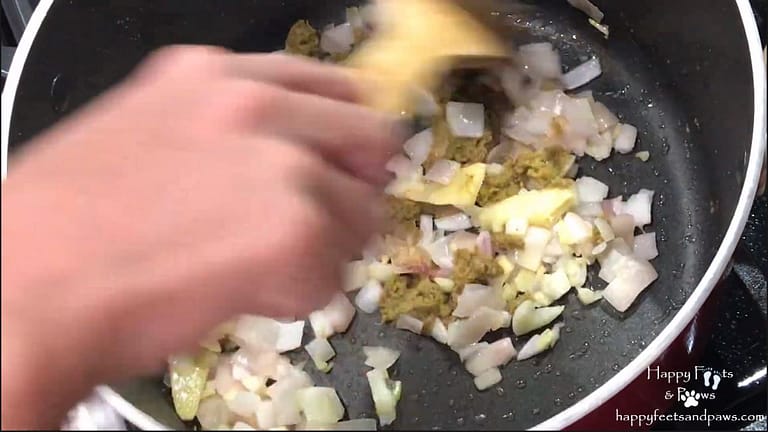 In a warmed pot, add the cooking oil and heat it for 1-2 minutes over medium-high heat. Add the shallots, saute for 1-2 minutes, or until translucent. Mixed in the garlic and saute for another 1-2 minutes or until the smell becomes aromatic. Then add and saute the ginger for another couple of minutes. Push the condiments to the side. Add the green curry paste. It is essential to saute the paste separately to bring out the flavor before mixing it with the rest of the ingredients.
Cook
Push the sauteed ingredients to the side once again. Add and stir fry the meat for 5-10 minutes. Cover the pot and let it simmer for 10-15 minutes. Then stir continuously until meat turns lightly browned. Add the coconut milk, water, and mix well. Because I am out of bamboo shoots and eggplant (these are the usual veggies I add) I made use of the potato. I added peppers to increase the spiciness. Cover and let it simmer for 15-30 minutes. Then add the whole lemongrass (tied firmly). Cover and simmer for another 15-30 or until the sauce is thick and the meat becomes tender. Season with fish sauce (patis), sugar, and mix until well. Discard the lemongrass and the chunks of ginger. Lower the heat, add, and mix the basil. Serve warm with jasmine or sticky and enjoy!
Please consider subscribing to our channel to help support us.
---
Did you enjoy this recipe? Please leave a review.