Hungry for some chicken soup? Let's learn how to make tinolang manok or Filipino chicken soup.
I love cooking this dish during the rainy season most especially. The warm, savory soup fills your tummy with awesomeness. I make this an appetizer or main course with rice. In the province, we usually cook Tinolang Manok with chayote or unripe papaya with moringa and/or the bird's eye chili leaves. Ginger roots are very essential to this dish as it helps eliminate the fishiness of the chicken, so for me, this is a MUST.
I also use lemongrass for added flavor and aroma. Chayote, unripe papaya, bird's eye chili leaves and/or moringa leaves, ginger roots, and lemongrass can be bought at your local Asian store. Some can be found at Walmart or Safeway. However, if you cannot find any, the links below are added if you wish to buy these items online. Also, in my next video, I will show you how you can grow your own lemongrass at your own backyard. It is very easy you can do it with your eye close. So stay tuned! ;-P. BTW, Voice over with my native tongue (Visayan dialect) was so much fun, hahaha! :-D. Do you think I should do it again? Please comment down below if you happen to be watching this! 🙂
---
---
Ingredients
2 lbs chicken, roughly cut (I used chicken thighs and drumsticks)
1-2 stalks lemongrass, tied firmly
2 pcs medium-sized shallots, sliced
5 pcs garlic cloves, roughly chopped
2 thumbs ginger roots, roughly sliced
2 pcs medium-sized chayote, cut into wedges (you may also use unripe papaya as personal preference)
1-2 green peppers (I used jalapeño and cubanelle peppers, optional)
1 cup baby spinach
1 tbsp ground black pepper
2 tbsp fish sauce (adjust to your liking)
3-5 tbsp cooking oil (for saute'ing)
3 cups water at room temperature
3 cups chicken stock (I used the organic with less sodium content as personal preference)
---
Instructions
Chop the chicken:
First, roughly chop the chicken, place it in a bowl. Sprinkle with salt and set aside for later.
Saute the vegetables: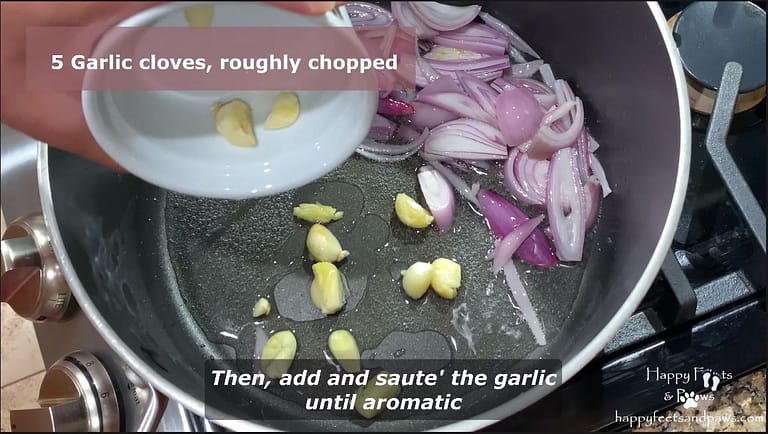 Put oil in a pot. Set your burner to medium-high heat. Add shallots and saute' until translucent. Add the garlic and saute' until aromatic. Add ginger and saute' for 1 to 2 minutes.
Cook the Chicken: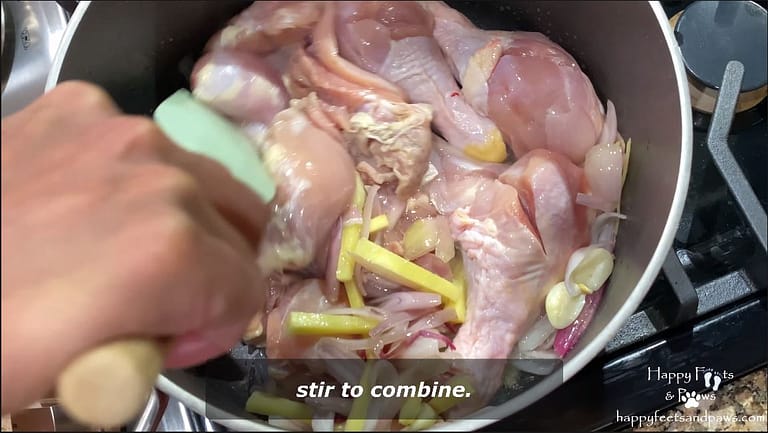 Push the condiments to the side then add the chicken. stir-fry for 5 to 10 minutes or until light brown. Cook the other side for another 5-10 minutes. Stir occasionally to prevent burning. Add water and chicken stock. Stir to combine. Simmer for 15 to 30 minutes. Add the whole lemongrass and simmer for another 30 minutes. Add the chayote wedges and peppers (I used 1 medium-sized jalapeño and 1 medium-sized cubanelle, optional), simmer for another 15 minutes.
Season and Combine: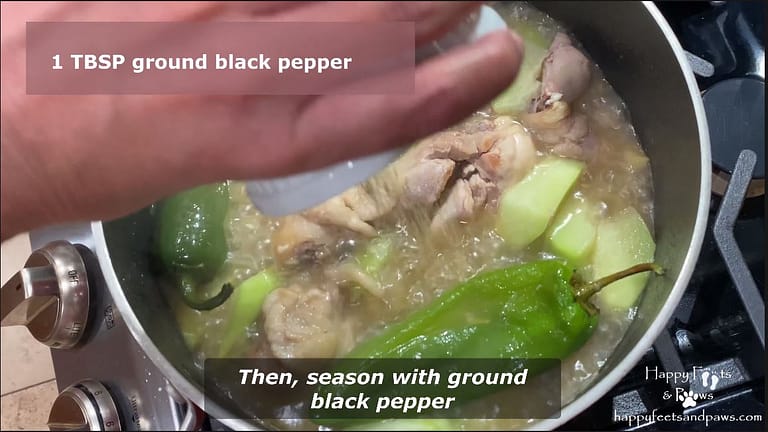 Season with ground black pepper and fish sauce. Stir to combine. Discard the lemongrass. Set the heat to medium-low, add the baby spinach (I usually use either moringa leaves or bird's eye chili leaves when available). Simmer for another 2 minutes. Stir to combine, then turn the heat off.
Serve:
Serve warm with your favorite white, brown, or red rice. Enjoy!
If you enjoyed this recipe. Check out more of my fun Filipino recipes. Such as how to make Filipino Avocado Ice Candy.
Please consider subscribing to our channel to help support us.
---
Did you enjoy this recipe? Please leave a review.