Shakoy is a Visayan word for Filipino Twisted Donuts. It is one of our many traditional pastries in the Philippines. A deep-fried snack sprinkled with sugar. It is puffy on the inside and crispy on the outside. How about you join me in learning how to make this yummy snack!
---
---
Ingredients
2 quarts (8 cups) boiling water in a pot (115°F – 46°C)
1 cup scald or heated milk
2 tbsp granulated sugar
1 packet (2 ¼ tsp) Instant Yeast (Quick-Rise)
3 tbsp unsalted butter, softened
1 large egg
3 cups all-purpose flour + 2 tbsp (for dusting)
½ tsp salt
½ tbsp oil (for greasing)
4-5 cups cooking oil (for frying)
Cinnamon Sugar Mixture
1 cup granulated sugar
2 tbsp cinnamon powder
---
Item's you'll need
Large pot
Measuring cups, spoons
Medium-sized or large mixing bowls
Scissors
Rubber spatula
Kitchen cloth
Large strainer or cooling rack
Baking sheet
Deep frying pan or pot
Food Thermometer
Chopsticks
---
Instructions
Mix the Ingredients
In a large pot, boil water over high heat. Boil for 3 minutes, then turn the heat off. Let it sit until the water temperature reaches 115°F – 46°C. Place the pot onto the kitchen counter (the warm water will help activate the yeast and melt the butter easily). Put a medium-sized mixing bowl on top. Scald the milk. Stir to prevent a film from forming. When the milk temperature reaches 110°F – 43°C, pour it into the mixing bowl. Mix in the sugar and a packet of instant yeast (Quick-Rise). Let the mixture sit for 5-10 minutes or until the yeast is activated and bubbles have formed. Add and melt the unsalted butter. Whisk in the egg. Sieve the flour and salt into the wet mixture. Mix well with a spatula until a dough starts to form. The dough will be sticky to the touch. Lightly flour your hands and start kneading. Sprinkle a little more flour as needed, but do not put too much (it will result in dense donuts).
Knead the Dough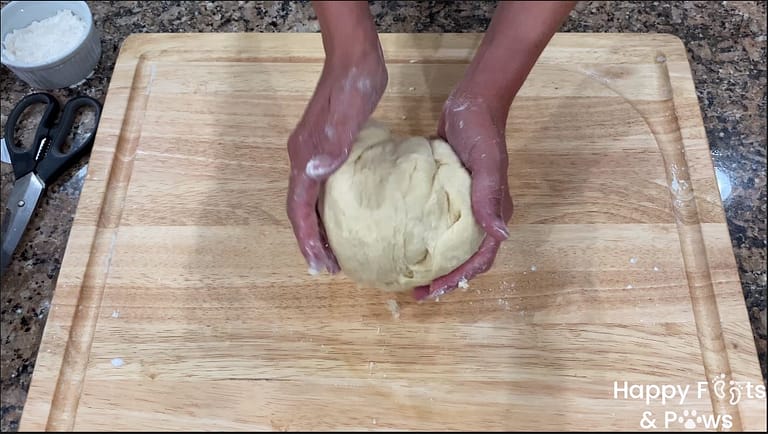 When a dough ball has formed, continue kneading on a lightly floured surface. Knead it for 10-12 minutes or until the dough becomes elastic and less tacky. Place the dough into a lightly greased mixing bowl. Put the bowl in the warm area of your kitchen (at room temperature). If available, put it in the oven. Set it to warm or proof (with a temp of 115°F – 46°C). Let it rise for 1 hour or until the dough has doubled in size. Then punch the dough to deflate. Gather and turn it onto a lightly floured surface.
Divide the Dough
Knead for another 10 minutes or until the dough turns smooth and no longer sticky. Cover and let it rest for 10 minutes. Divide it into two and form each dough into a log. Divide them into 16 dough pieces. Put them to the side and cover them with a kitchen cloth to prevent them from drying out.
Deep-Frying the Donuts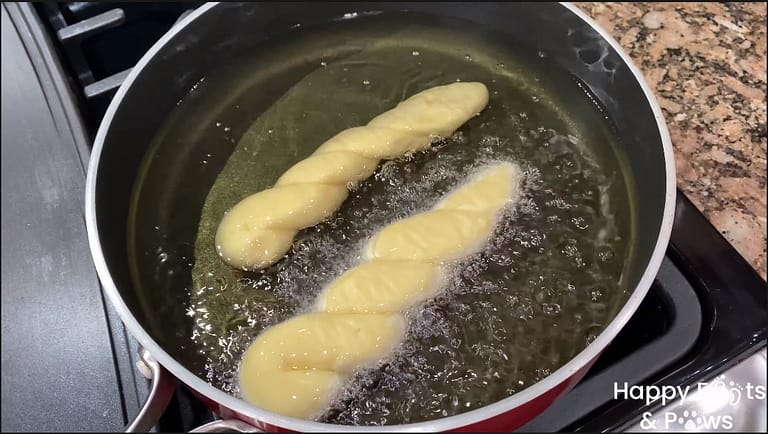 To deep-fry, heat 4-5 cups of cooking oil in a deep frying pan or pot over high heat. In the meantime, make the cinnamon sugar by mixing the granulated sugar with the cinnamon powder. Set aside for later use. When the oil temperature reaches 300°F/148°C to 350°F/176°C, carefully lower the donuts three pieces at a time. Do not overcrowd. Deep-fry them for 2-3 minutes total or until all sides are golden brown. Place the fried donuts into a large strainer or cooling rack to allow the excess oil to drip. Then put them into a paper towel or parchment-lined baking sheet. While warm, immediately roll them into the cinnamon sugar until well coated. Place them onto a plate sprinkled with more cinnamon sugar. Serve warm and enjoy!
---
Please consider subscribing to our channel to help support us.
---
Did you enjoy this recipe? Please leave a review.