This vegetarian recipe is perfect for food lovers who enjoy eating anything with sauce. The sweet and sour flavor of the feta cheese sauce complements the ravioli with white bean filling. The soft texture of the filling just melts in your mouth. This is a healthy alternative to store-bought Ravioli without losing all the flavor. Join me in learning how to make White Bean Ravioli with Feta Cheese Sauce!
---
---
Ingredients
White Bean Filling
2 cans (15 oz) white bean, drained, rinsed, and cooked
1 cup halved sun-dried tomatoes, re-hydrated
1 ½ quart (6 cups) drinking water, at room temperature
1 cup bean water
1 tbsp extra virgin olive oil (canola or vegetable oil works fine)
1 medium-sized shallot, chopped
1 tbsp minced garlic
1 tsp chipotle adobo
½ tsp cumin
½ tsp curry powder
2 tbsp fresh parsley, chopped
2 tbsp fresh rosemary, chopped
1 tbsp lemon juice
½ tbsp kosher salt
¾ cup bean water
Egg Wash (Optional)
1 large egg
2 tbsp drinking water
1 package (12 oz) won ton wrappers (I used the Nasoya vegan won ton wraps)
3 quarts (12 cups) drinking water
2 pinches of Kosher salt
1 tsp whole peppercorn
3 bay leaves
Feta Cheese Sauce
1 tbsp extra virgin olive oil
1 medium-sized shallot, chopped
2 small tomatoes, chopped
4 tbsp drinking water
¼ tsp Kosher salt
¼ tsp ground black pepper
1 tbsp balsamic vinegar
2 tbsp white cooking wine
2 tbsp feta cheese
2 tbsp fresh basil, chopped
1-2 tbsp brown sugar
---
Items you'll need
Mixing bowls
Strainer or colander
Measuring cups and spoons
Knives and cutting board
Food processor
Wooden spatula
Forks
Clean kitchen cloth
Large pots, frying pan, and saucepans
Baking sheet
Silicone brush
Plates
---
Instructions
Cook The White Beans
Drain and rinse the white beans. Soak in water and refrigerate overnight. The next day, put the sun-dried tomatoes in a measuring cup and pour water to re-hydrate. Set it aside for later. In a medium-sized saucepan or pot, boil water over high heat. When it starts boiling put in the drained white beans. Stir them and cook over medium-high heat for 3 to 5 minutes or until soft. Stir occasionally. Make sure the bean is fork-tender. When cooked, turn the heat off and reserve 1 cup of the bean water. Strain the beans completely and allow them to cool down.
Make The White Bean Filling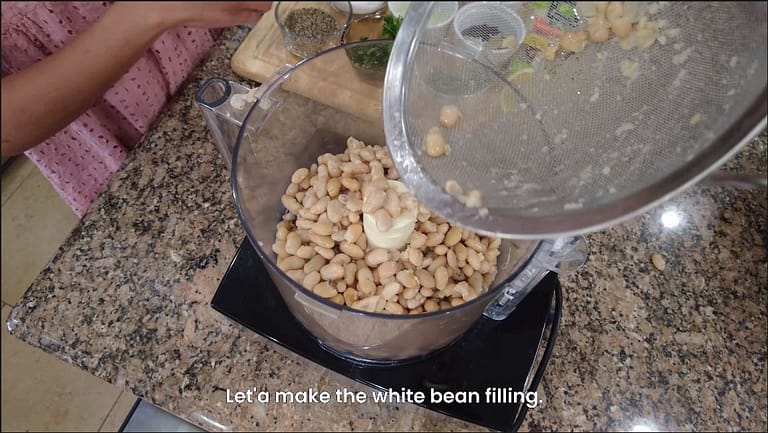 In a heated frying pan, heat a tablespoon of cooking oil. Saute the chopped shallots until translucent. Then saute the minced garlic until fragrant. Cook them for 30 seconds to a minute. Transfer into a measuring cup with the oil. In a food processor, put the cooked beans. Add the sauteed shallots and garlic with the oil. Pulse until well combined. Drain and add the sun-dried tomatoes. Add the chipotle adobo, cumin, curry powder, chopped fresh parsley, and rosemary. Add the lemon juice, and salt. Pulse again. Pause and push the unprocessed ingredients to the bottom. Pulse once again. To get a fine and soft texture pour some bean water and pulse once again until the color changes to a darker orange. Transfer the filling into a mixing bowl.
Make The Ravioli
Put the won ton wrappers in a damp cloth to prevent them from drying out. Place won ton wrapper on a flat surface. Put a tablespoon of the bean filling. On a separate wrapper, brush the egg wash or water on all sides. Flatten the filling with the spatula, place the wrapper with the egg wash on top. Crimp all sides using a fork. Repeat the process until the filling is consumed. Form the ravioli into any shape you like. I used a chopstick and pizza cutter to make triangle ravioli. Place the finished ravioli into a lightly floured baking sheet. Freeze some for later.
Cook The Ravioli
In a large pot, boil drinking water over high heat. Dissolve a couple of pinches of salt. Put whole peppercorn and bay leaves for added flavor and aroma. When it's boiling put the ravioli and cook them over medium-high heat for 3 to 5 minutes or until they float to the top (which means they are cook). Transfer them to a plate. Set aside.
Make The Feta Cheese Sauce
In a heated saucepan, heat some cooking oil. Saute' chopped shallots until translucent. Add the chopped tomatoes, water, salt and pepper, balsamic vinegar, and white wine. Stir it and saute' for 6 minutes over medium-low heat. Add the feta cheese and the chopped fresh basil. Cook for 2 more minutes. Add some sugar, stir it until the sugar is dissolved. Then turn the heat off and remove it from heat. Assemble the dish by putting a spoonful of the sauce. Spread them on the plate, put the cooked ravioli on top of the sauce, garnish with more sauce and fresh basil. Serve warm and enjoy!
Please consider subscribing to our channel to help support us.
---
Did you enjoy this recipe? Please leave a review. Still can't believe this is a vegetarian dish. (If you leave out the egg and the goat cheese) But still an amazing taste. 5 Stars!