Mahi-mahi or Dorado Fish is one of my favorite seafood. The white meat is perfectly delicious with the nutty texture of the chopped pecans. Cayenne pepper gives a hint of spice to the dish but you may leave it out if you do not want any spiciness to it. Pair this dish with any veggies and sauce you like. Of course, it will not be complete without a cup of rice. Join me in learning how to make Pecan-crusted Mahi Mahi!
---
---
Ingredients
0.5 lb pecans, chopped
½ cup Panko bread crumbs
1 tsp thyme
1 tsp paprika
½ tsp cayenne pepper (optional)
4 small (or 2 large) pcs mahi-mahi fillet
Salt and pepper (adjust to taste)
½ of a medium-sized lemon
3 tbsp extra virgin olive oil or melted unsalted butter
---
Item's you'll need
Mixing bowls
Measuring cups and/or containers
Knife
Paper towels
Baking glassware or pan
Plate
Forks or chopsticks
---
Instructions
Make The Pecan Breading or Mixture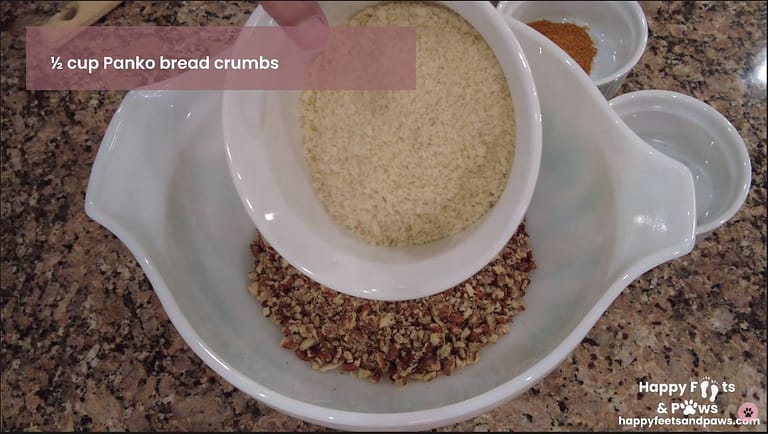 In a mixing bowl, put the chopped pecans. Add the panko bread crumbs, thyme, paprika, and cayenne (You may leave out the cayenne pepper if you do not want a hint of spice on your fish). Mix it well until well combined. Set aside for later.
Coat The Mahi Mahi
In a separate mixing bowl, put the mahi-mahi and use a paper towel to pat them dry. Transfer onto plate and season with salt and pepper on both sides. Squeeze lemon on both sides too. Pour olive oil or melted butter and make sure all sides are coated. Put the pecan-crusted mahi-mahi into a greased baking glassware or pan.
Bake The Crusted Mahi Mahi
Preheat the oven to 350°F/176°C. Then place the mahi-mahi in the preheated oven. Bake for 15 minutes at 350°F/176°C. Remove from the oven when done. Insert (instant-read) thermometer, it's cook when it registers over 150°F/65°C but less than 200°F/93°C. You may also break in half to check if the inside is cooked. Allow to cool down for 5 minutes. Serve with your favorite sauce and vegetables with/without rice. Enjoy!
Please consider subscribing to our channel to help support us.
---
Did you enjoy this recipe? Please leave a review. Mahi-Mahi is my favorite fish as well. Thank you for the great recipe. I may have over cooked mine a little. But not your fault.