This Sweet Zucchini Relish recipe is truly amazing. Once you try this relish you will never get storebought relish ever again. Wow your friends and family this summer with this unbelievable relish on hotdogs, hamburgers, and sandwiches. This was given to us by a family friend Mr. Brown. It is his mother's original recipe, and we are grateful to him for allowing us to share it with the rest of the world. We know you will enjoy it too. Let's get started!
---
---
Ingredients
9 large (5 cups) green bell peppers, cut vertically into 1-inch wide
3 large (3 cups) red bell peppers, cut vertically into 1-inch wide
1 large (4 cups cabbage) cabbage, cut vertically into 1-inch wide
4 cups dried onions
2 ½ tbsp canning/pickling salt + 2-3 cups more for soaking
4 Medium Sized Zucchini
Relish Containers
12 brand new or old (no cracks, or chips) mason jars
12 brand new or old (no bents, dents) metal screw bands
12 brand new (only) metal lids (DO NOT re-use metal lids)
Herbs and Spices
4 cups distilled white vinegar
4 cups brown sugar
2 tbsp mustard seeds
1 ½ tbsp celery seeds
½ tbsp ground black pepper
1 ½ tbsp turmeric powder
2 tbsp crushed red peppers (optional)
---
Instructions
Cutting and Grinding
Use a meat grinder. I used my stand mixer with the meat grinder attachment. I also used the coarse ground metal plate (10-12mm in diameter). Let's start with cutting the bell peppers vertically into 1-inch wide. Discard the seeds. Roughly peel the zucchini. Trim both ends and cut them in half and into quarters. Cut the cabbage in half. Cut off the core by slicing the middle into V-shape. Slice them vertically into 1-inch wide. Feed the grinder one veggie at a time to prevent jamming. The glass container must be big enough to hold a gallon of veggies.
Soaking
Transfer the ground-up veggies into a large container with enough room to mix the condiments. I used a large wok for mine. Mix in the dried onions and pickling salt. Mix vigorously until well combined. Transfer into a glass container again. Compress and flatten the top. Slowly pour more pickling salt (add more as needed). Fully cover the top with a ¼-inch thick of pickling salt. Tightly cover with a saran wrap and soak overnight.
Sterilizing and Rinsing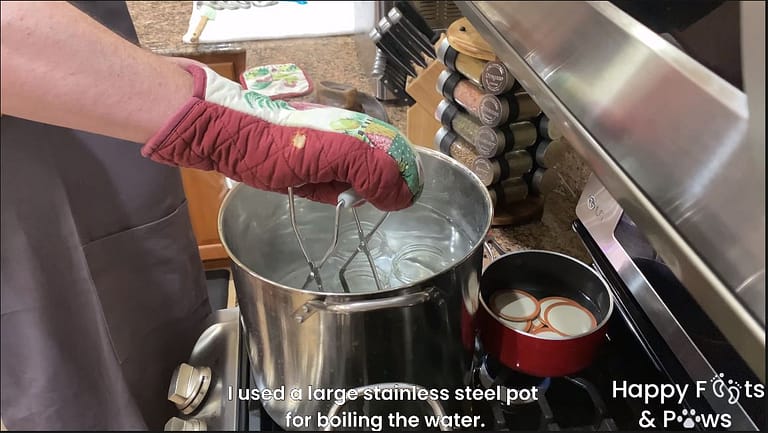 The next day, thoroughly wash the mason jars, metal screw bands, and metal lids. Place the metal lids in a small saucepan with water. Sterilize them over medium-high heat for 10 minutes. Turn the heat to medium. Keep them in the saucepan on the stovetop (heating) until ready to use. NEVER re-use any metal lids as the heating compound around it is no longer good. In a large pot with boiling water, sterilize the mason jars. When the temperature reaches between 210-212° F/98-100° C, sterilize them for 15 minutes over high heat. Then remove and place them in an upright position onto a clean towel or cloth. Put a kettle of hot water on standby. Use it as refills for sterilizing. There is no need to sterilize the metal screw bands.
Meanwhile, uncover the soaked ground-up vegetables. Place the bowl in the kitchen sink. Scrape and remove the pickling salt. Remove the excess salt by scooping a tablespoon one at a time and put in a strainer. Rinse it off using tap water (set the faucet to spray mode to rinse easily). Rinse thoroughly to avoid salty relish. Put the rinsed veggies in a large pot. Repeat the process until the veggies are consumed.
Cooking and Canning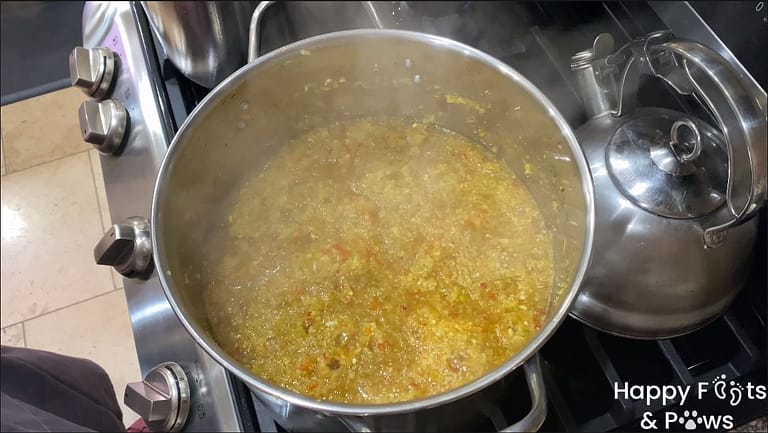 Place the large pot with the ground-up vegetables on a stovetop. Mix in distilled white vinegar, brown sugar, mustard seeds, celery seeds, ground black pepper, turmeric, and crushed red peppers (optional). Stir vigorously to mix well. Cook for 15 minutes over high heat. Stir occasionally to prevent burning. Then remove the pot from heat and prepare the mason jars. Put a funnel over it, fill the jar but do not overfill. DO NOT touch the jar from the neck up to prevent contamination (it's okay to fill the jar while the relish is hot). Using a thong, get a metal lid from the saucepan, place it onto the top of the full mason jar. Close it securely with the metal screw band. Lower them into the boiling water. Boil them for 15 minutes over high heat at 212° F/100° C. The jars MUST not touch each other. Then remove and place them onto a clean towel, cloth, or rack and allow to cool down. When you hear it "Pop" or a "click" it means you have successfully vacuum sealed the jars for safe storage. Store them in the pantry where it is dark for up to one year. Enjoy!
Please consider subscribing to our channel to help support us.
---
Did you enjoy this recipe? Please leave a review. We made these this weekend. You're right! We will never go back to the store for relish. Thank you! How much zucchini? Lisa, thanks for reaching out to us. It's a personal preference. We used 4 Medium sized Zucchinis. I will update the website now. Maricho