Today let's learn how to make Fettuccine Alfredo from scratch. If you enjoy shrimp Fettuccine Alfredo from Olive Garden or other Italian restaurants you will love this dish.
Fettuccine Alfredo is a favorite in our household, especially with my husband. Using some minced and garlic powder is an addition to the dish. Therefore, it is up to you if you wish to leave out the garlic (minced and/or powder) or leave it. The star of this dish is of course the sauce and its ingredients. I immediately tried it after seeing it on Pinterest but made some minor changes to the ingredients. The sauce is so creamy and delicious! You will want to make this after watching it. Come join and cook with me!
---
---
Ingredients
1 LB Fettuccine noodles (I used Barilla brand)
12 CUPS water, at room temperature
¼ TSP salt
2 CUPS pasta water (save for later use)
One TBSP salted butter (to saute' the garlic)
1 TBSP minced garlic
1 ½ PINT heavy whipping cream
1-1 ½ TBSP regular cream cheese, at room temperature (I used the Philadelphia brand)
1 STICK salted butter, softened
2 CUPS grated parmesan cheese
1 TSP garlic powder
¼ TSP salt (optional)
One TSP ground black pepper
1 TBSP dried parsley (or use fresh if available)
1 CUP pasta water (adjust to your liking)
Fried Shrimp ( you may use any protein you prefer)
12-15 PCS shrimp (tail-on or off)
½ TSP ground or rock salt
½ TSP ground black pepper
2 TBSP all-purpose flour
2 TBSP corn flour (cornstarch)
1 TBSP salted butter + oil spray as needed (for frying)
---
Instructions
Cook Pasta: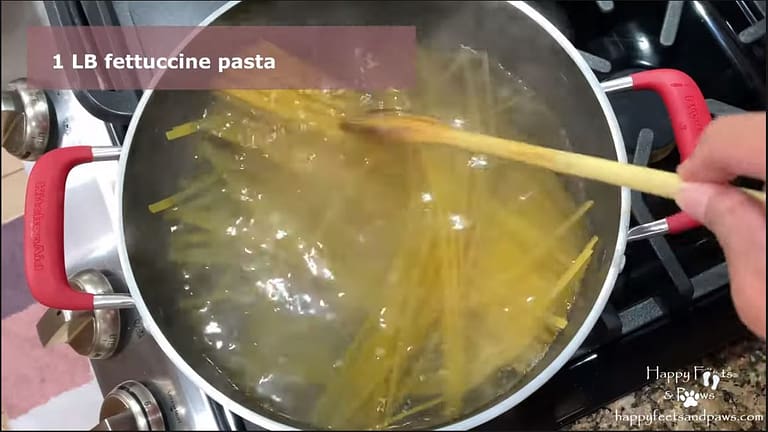 In a large pot, boil 12 cups of water over high heat. When water starts to bubble put in the pasta and boil for 10 minutes or until cooked. Stir occasionally. Fish out a noodle and try it to ensure it's cooked. When done, remove from the stove and save 2 cups of the pasta water. Then drain the water completely. Rinse the noodles with cold water to keep the noodles firm and avoid sticking. Set aside.
Make the Sauce:
To make the sauce, put a tablespoon of salted butter in a pot or large saucepan over medium-high heat. Saute' the minced garlic until fragrant. Pour the heavy cream. Add the cream cheese, a stick of salted butter, parmesan cheese, garlic powder, salt, ground black pepper, dried parsley. Give it a good stir. Simmer for 10 to 15 minutes or until the sauce is thick. Turn the heat to medium, add the pasta water. Continue to simmer for another 5 minutes or until the sauce is thick to your desired consistency. Then turn off the stove.
Assemble:
Assemble the pasta by putting enough amount of noodles in a bowl. Generously pour some sauce. Put a few pieces of shrimp. Garnish with some parsley. Serve while warm and enjoy!
If you enjoyed this Italian dish and want to try a classic dish with a twist. Try my Filipino Spaghetti.
Please consider subscribing to our channel to help support us.
---
Did you enjoy this recipe? Please leave a review.