Today we are going to make Ginataang Isda or Fish Fillet in Coconut Milk.
We make a lot of dishes with coconut milk back home. We are blessed as coconut is abundant in the Philippines. One of these famous dishes is the classic seafood in coconut milk. You can make use of fish, crab, shellfish, or a combo of it. They are not only delicious but nutritious too as we always add all kinds of vegetables with it. One of my favorites is with some acorn squash. I just love that creamy taste of the mashed acorn squash. We also make use of dried seafood such as dried fish, squid, and smoked fish. If they are not in the ingredients rest assure they are part of our side dish as an appetizer. All of the veggies I used with this recipe can be found at your local Asian store. I am not sure if you can buy them online as these are fresh produce. Anyway, please join me in learning how to make Ginataang Isda or Fish Fillet in Coconut Milk!
---
---
Ingredients
2 pcs thick-cut fish fillet (I used wild-caught snapper skin on. Or any seafood such as crab, shrimp, and shellfish or seafood combo)
¼ – ½ tsp rock or ground salt
4 tbsp cooking oil (for searing and sauteing)
½ medium-sized of sweet onion, chopped
5 cloves garlic, roughly chopped
½ thumb of ginger, chopped
2 pcs tomatoes, chopped (I used Roma tomatoes)
1 can coconut milk, 14 fl oz (I used the Thai Kitchen brand)
1 cup chicken stock (I used the organic brand from Costco. Water works just fine)
2 small stalks lemongrass, tied firmly in a knot
1 medium-sized acorn squash, cut into wedges
½ of a large eggplant, cut into wedges
One medium-sized chayote (sayote), cut into wedges
1 cup string or green beans (2-3" baton)
1 handful of sweet potato tops (from my parents-in-laws' backyard. Can be found at your local Asian store. This is optional)
1 tsp fish sauce (patis)
1 tsp ground black pepper Dash of chili flakes (optional)
---
Instructions
Season and Cook Fish:
In a mixing bowl, put the fish fillet and season with ground or rock salt (adjust to taste). Coat all sides evenly. In a heated pot put some cooking oil over medium-high heat. Sear the fish for 3 to 5 minutes or until golden. Sear the other side for equal time. When done, place the seared fish on a plate and set it aside for later use.
Cook the Vegetables: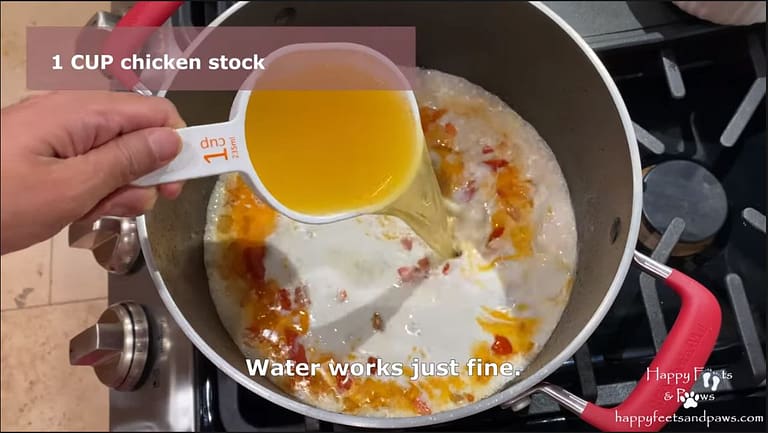 Using the pot and leftover cooking oil, saute' the chopped onion until translucent. Then saute' the garlic until fragrant. Next, saute' the ginger for 1 to 2 minutes. Throw in the chopped tomatoes and saute' until soft and skin are loose. Pour the coconut milk, chicken stock, lemongrass, and the wedges of acorn squash. Bring to a boil for 15 to 30 minutes. Stir occasionally. Check to make sure the squash is cooked using a fork. Then add the rest of the vegetables (I made use of whatever veggies I have that I think will taste good with it) except for the sweet potato tops (this will go in last). Simmer for another 10 to 20 minutes or until all the other veggies are cooked. Lower the heat to medium-low, add the handful of sweet potato tops. Cover and simmer for another 60 seconds.
Season and Add the Fish: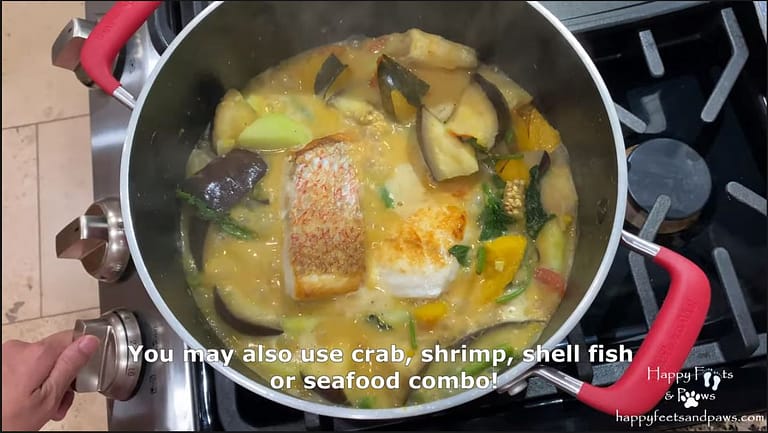 Season with fish sauce and ground black pepper (adjust to taste). Discard the lemongrass. Add the seared fish fillet and simmer for 2 more minutes. If you enjoy spicy food you may add some dashes of chili flakes (optional). Taste to make sure it's delish! Then turn the heat off.
Serve: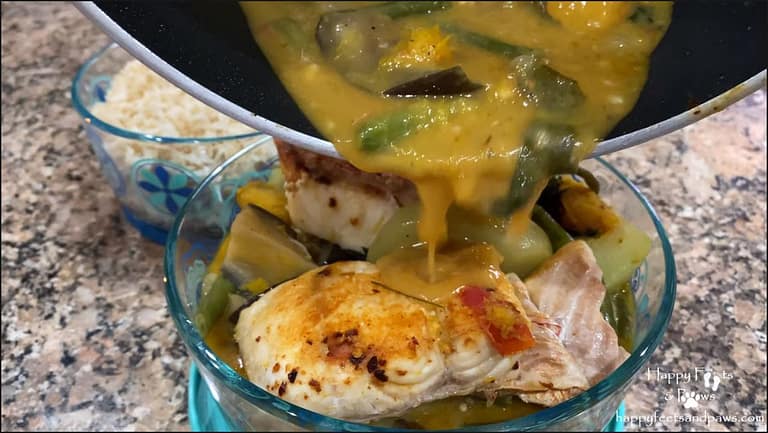 Serve warm with rice and your favorite side dish of dried seafood. Enjoy!
If you enjoyed this Filipino Dish check out how to make Tinolang Manok Chicken Soup.
Please consider subscribing to our channel to help support us.
---
Did you enjoy this recipe? Please leave a review.