Banana bread is one of my go-to snacks or dessert whenever we have family gatherings, potlucks, or whenever I feel like making sweet treats. This is very easy to make. Found this recipe by accident and been making it since. I made a minor change with the ingredients though as I enjoy the fluffy texture of my banana bread (cake-like texture). I make use of either cake flour or if I am out of cake flour I make use of cake flour substitute. Cake flour substitute ratio is for every 1 cup of all-purpose flour remove 2 tbsp of it then add 2 tbsp of the corn flour (cornstarch). The ingredients of this awesome treat can be found at your local grocer. Come and bake with me!
---
---
Ingredients
Cake flour substitute (you may use cake flour or all-purpose flour as personal preference)
1 ½ cup all-purpose flour (remove 3 tbsp)
3 tbsp corn flour
Banana Bread Batter
3 pcs overripe bananas, peeled
6 tbsp unsalted butter, melted and cooled
½ – ¾ cup light brown sugar (adjust to your liking. Also, white, dark brown sugar works fine)
One pc large egg
1 tsp vanilla extract
1 tsp baking soda
¼ tsp salt
---
Instructions
Prep the flour:
To make the cake substitute, put 1 ½ cup all-purpose flour in a mixing bowl with a sifter. Remove 3 tbsp of the flour then add 3 tbsp of corn flour (cornstarch). Sift for 3 to 5 times or until well combined. Set aside for later use. If you prefer to use all-purpose flour or cake flour skip to step# 3
Prep the ingredients: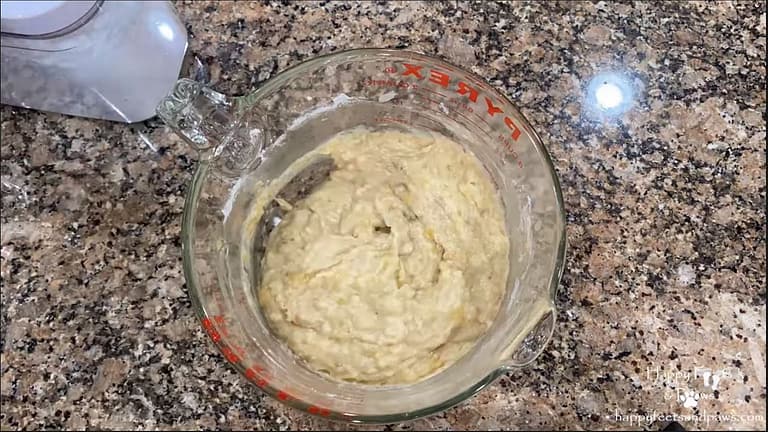 In a separate mixing bowl, peel and mash 3 overripe bananas. Add 6 tbsp of unsalted butter (melted and cooled). Mix well to combine. I added just ½ cup of sugar (adjust the amount of sugar to your liking), then egg, vanilla extract, and mix well. Using a sifter add the cake flour mixture, baking soda, salt, and sift carefully. Mix well using a spatula but do not over mix as this will result in dense banana bread.
Place in glassware:
Grease an 11×22 cm. glassware or baking pan. Carefully pour the banana bread batter. Flatten and even out the batter. Then top it with your favorite nuts or chocolate chip pieces.
Preheat the oven:
Preheat the oven to 350°F/176°C.
Bake:
Bake for 1 hour and 15 minutes at 350°F/176°C. Stick a toothpick in the middle to make sure it is done. When it comes out clean that means the banana bread is done. Let it cool on a wire rack for 15 to 20 minutes. Then remove from glassware or baking pan and put it on a plate to let it cool completely.
If you enjoyed this sweet treat try my Biko or Filipino Sweet Rice Cake Recipe.
Please consider subscribing to our channel to help support us.
---
Did you enjoy this recipe? Please leave a review.