I did a Live Stream for the first time and make Lumpia (Filipino egg roll). So I did it and I think I did okay. I was a bit nervous but I got the hang of it. Hope you will join me in learning how to make Filipino Lumpia! This is not like our typical recipe guides. But it's a fun behind the scenes and technically you could follow along. Another great Filipino dish is skinless Longganisa. Great for breakfast. Check it out.
---
---
Ingredients
1-2 package Lumpia wrappers (Chinese or Vietnamese spring roll wrappers).
1-2 cup(s) of cooking oil (for frying)
Filling:
1/2 lb ground pork
1/2 lb ground chicken
1 medium-sized onion finely chopped or pureed
1 tbsp garlic minced
1 tsp ginger minced
3-5 spring onion stalk finely chopped
1 cup carrots finely chopped
2-3 tbsp shoyu (soy sauce)
1 tbsp ground pepper
1-2 tbsp sugar
1 large egg
Egg Wash:
---
Instructions
Mix Meat
In a mixing bowl, add 1/2 LB ground pork and 1/2 LB ground chicken. Add the rest of the filling ingredients and mix well. Use a hand or stand mixer if available. cover and refrigerate the mixture to set aside.
Separate Lumpia Wrappers
Meanwhile, separate the lumpia wrappers and place them under a damp cloth to prevent it from drying out. Continue to separate wrappers until the entire package becomes empty.
Make Egg Wash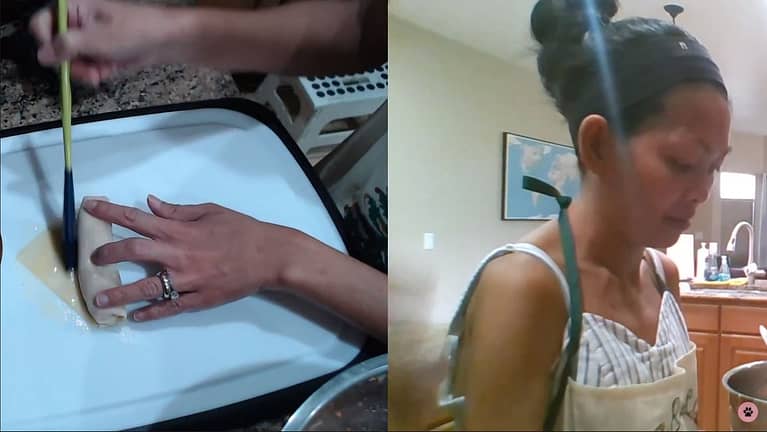 To make the egg wash, mix 1 large egg and 2-3 TSP of water.
Assemble
To make the lumpia, place a wrapper vertically on a flat surface. Then scoop 1-2 TBSP of the mixture put it over the lumpia wrapper about 1/4″ of the edge closest to you. Lift the bottom edge of the wrapper and roll it up over the filling. Continue to roll until 2″ of the wrapper remains. Dip the brush (or 2 clean fingers) into the egg wash. Brush it over the remaining 2″ of the wrapper. Roll completely to seal. Repeat the process until the entire mixture is consumed. Freeze some for up to 1 month for future use.
Cook
To cook, heat 1-2 CUP(S) of cooking oil in a deep frying pan over medium heat. Dip the end of a wooden ladle in the oil. When bubbles form around it gently add the lumpia one at a time. Cook for 2 minutes or until the side becomes brown. Flip it over and cook the other side for another 2 minutes or until all sides are browned. Place the cooked Lumpia Shanghai on a paper towel to soak excess oil. Serve warm with rice and your favorite dipping sauce and enjoy!
Please consider subscribing to our channel to help support us.
---
Did you enjoy this recipe? Please leave a review.