Hey guys, let's learn how to make Honey Glazed Ham. The first time I made this tasty ham, it took me all day. So make sure you have plenty of time to make this delicious recipe. Prep by defrosting the meat a day before to ensure that the ham cooks all the way through. The best part of making ham is making amazing sandwiches, stew, and breakfast the following day.
You can also vacuum seal the leftover for later cravings. You can use the drippings to make gravy and for making stew. This recipe is perfect for the holidays like Thanksgiving and Christmas. The ingredients for this delicious dish can be found at your local grocer. Roll up your selves as this will take all day to make. So join me and let's get started!
---
---
Ingredients
8-9 lb bone-in Ham (Shank portion)
1-2 quarts water at room temperature Honey Glazed Mixture
Honey Glaze Mixture
2 cups ham drippings
1 ½ cup sugar (I prefer brown sugar)
1 ½ cup honey (I used the raw unfiltered honey)Dashes of Cinnamon powder
Dashes of ground nutmeg
Dashes of ground cloves
4 tbsp liquid smoke
4 tbsp Worcestershire sauce
---
Items you'll need
2-3 Tin pans, 11 3/4″x9 3/8″ (use a roasting pan with a wire rack and tight lid if available)
Stainless steel serving spoon(s) and fork(s)
Tinfoil (for sealing)
Baking sheet
Baster or a large syringe
---
Instructions
Defrost:
Defrost the meat a day before. Store in the refrigerator overnight.
Cook: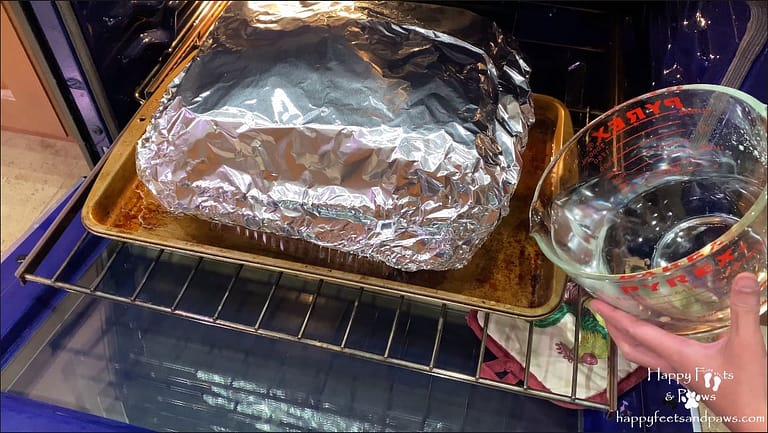 The following day, remove the plastic. Place the uncooked ham on a tin pan with a wire rack or using the stainless steel serving spoons and forks face down (you may use a roasting pan with a wire rack and a lid if available). Cover using another tin pan as a lid. Then seal all sides using tinfoils (folded lengthwise about 24″ long). Put the tin pan on a baking sheet. Then put it in the oven (in the middle rack). Pour in some water about 1-2 inches deep. Bake for 7-8 hours at 275°F/135°C. Add water to the baking sheet as needed (Do Not let it dry out). After 7-8 hours, remove the ham from the oven. Carefully remove the tinfoil to unseal. Using a baster or large syringe, take out the drippings and reserve.
Make Honey Glaze:
To make the honey-glazed mixture, put 2 cups of the drippings in a saucepan. Add sugar and honey. Stir to combine. Put dashes of the cinnamon powder, ground nutmeg, and ground cloves. Stir again to combine. Simmer for 2 minutes over medium-low heat. Then turn the stove off.
Baste:
Generously pour and baste the ham with the honey-glazed mixture until it is fully covered. Cover with another tin pan and seal again using tin foils (use a roasting pan with wire rack and lid if available). Put it back in the oven and bake it for another hour. Reserve the remaining honey-glazed mixture for later use. Save the remaining drippings and use them for making gravy or for making stew.
Serve:
After an hour remove the ham from the oven. Remove the cover and tin foils. Baste again with the remaining honey-glazed mixture as needed and do a taste test. Transfer it to a serving plate or cutting board. Carve the ham you want and add the additional honey-glazed mixture to your liking. Enjoy!
If you enjoyed this classic American dish check out my how to make Biscuits and Gravy recipe.
Please consider subscribing to our channel to help support us.
---
Did you enjoy this recipe? Please leave a review. Very detailed. I made this recipe for Christmas Eve. Thank you for the great video and instructions!