Lap Xuong or Chinese style sausage fried rice is my husband and I's go-to breakfast. The secret is to make sure the rice is cold. Let's learn how to make Lap Xuong Fried Rice! Cook the rice a day in advance and put them in the refrigerator. If you're in a rush, cook the rice, cover it, and put them in the freezer for 15 to 30 minutes but make sure the grain does not freeze. The taste of salty and sweet are the perfect combo to have in the morning with hot coffee and/or tea.
We make sure we stock up on Lap Xuong sausages that way we are able to make this dish at any time of the day. Costco does carry this brand of Chinese sausage in bulk. You may also get this at your local Asian supermarket or online.
I used a jasmine and brown rice combo on this recipe but you can use any type of rice you like. As for the sauce mixture, you may use mirin (Japanese sweet rice wine), or Chinese cooking wine. That is up to you to decide. Mirin is already sweet so put less sugar and try it before adding more. Mirin can be found at your local grocers like Walmart or Safeway. You can also get them at your local Asian store or online. Anyway, why don't we start cooking and learn how to make Lap Xuong Fried Rice!
---
---
Ingredients
Scrambled Eggs:
1 tbsp cooking spray or oil (I used cooking spray. Olive oil, canola, or vegetable oil works fine)
3 large eggs, beaten
Sprinkle of spring onions or chives
Dashes of white or black pepper
Fried Rice:
1 tbsp cooking oil (I used extra virgin olive oil. Canola or vegetable oil works just fine)
3 Lap Xuong Chinese Style Sausages (I prefer Lap Xuong Thuong Hang Chinese Style Sausage brand)
1 medium-sized shallot, chopped
1 tbsp minced garlic
5 cups day-old rice, refrigerated (I used mixed of jasmine and brown rice)
Dashes of ground black pepper
4 stalks of spring onions or chives, finely chopped
Dashes of red pepper flakes (optional)
Sauce Mixture:
1 tbsp fish sauce
2 tsp mirin or Japanese sweet rice wine (I used Kikkoman Aji-Mirin brand)
1 tsp shoyu or soy sauce (I prefer Aloha brand soy sauce)
1 tsp sugar
---
Item's you'll need
Chopping board
Knives
Large pot
Measuring bowls and cups
Wooden ladle
---
Instructions
Make the scrambled eggs: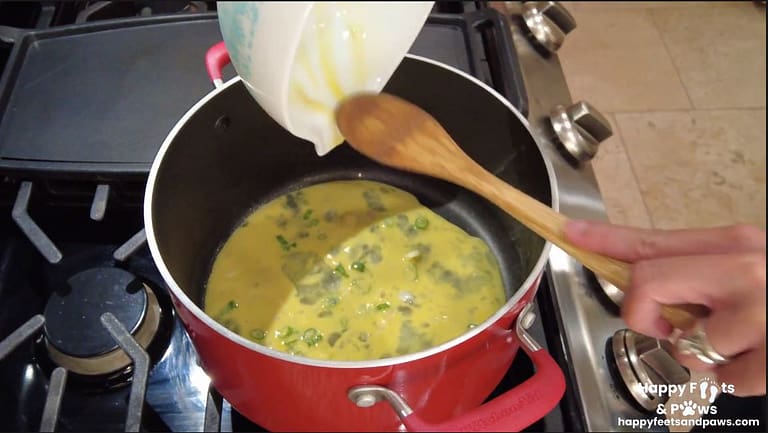 In a bowl, beat 3 large eggs. Season with white or black ground pepper. Sprinkle with finely chopped spring onions and mix well. In a heated frying pan or pot, put cooking spray or cooking oil over medium-high heat. Turn the heat to medium and pour the egg mixture and allow to set and solidify for 1 to 2 minutes or until cook but DO NOT overcook. Gently scrape and stir to form scrambled eggs. Remove from pot or pan immediately and put them in a bowl, set aside for later.
Cook the Lap Xuong or Chinese Style Sausages: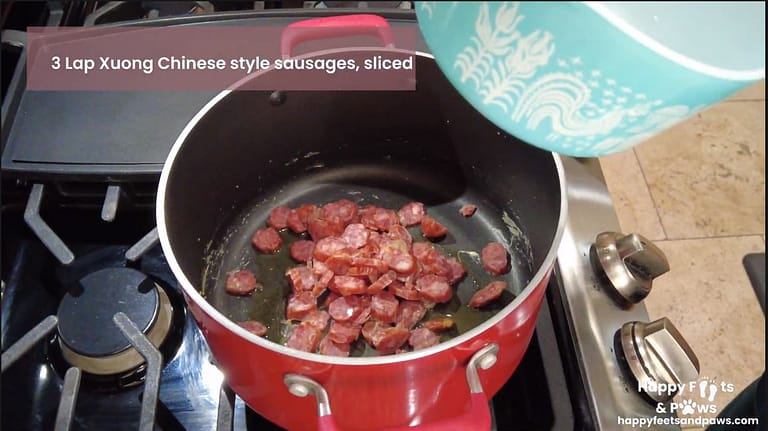 Using the same pot, heat up 1 tbsp of cooking oil. Put the sliced lap xuong or sausages. Cook for 2 to 3 minutes or until cooked.
Make the sauce mixture: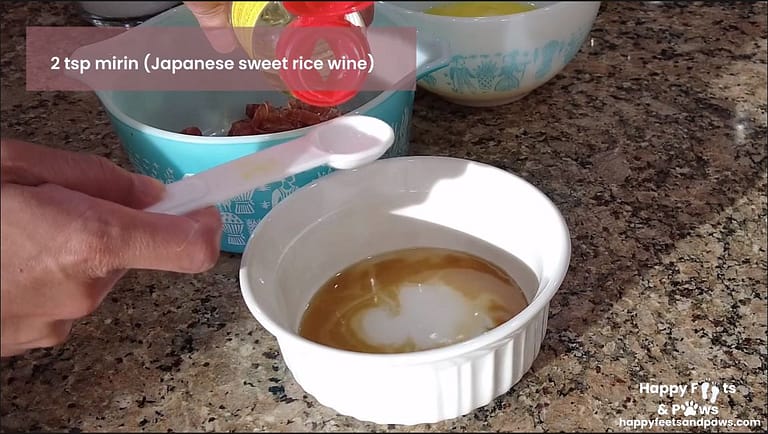 While waiting for the sausages to cook, put fish sauce, mirin, shoyu (soy sauce), and sugar in a small mixing bowl. Mix thoroughly until well blended. Set aside for later.
Cook the fried rice:
Push the cooked sausages to the side of the pot and add the chopped shallots, saute' until translucent. Add and saute' the minced garlic until fragrant. Cook it for 1 to 2 minutes. In the meantime, season the cold rice with salt and break them up using a fork to prevent clumping. Then immediately put into the pot. Mix until well combined. Pour the sauce mixture and mix well. Then season with ground black pepper as much as you like. Do try it and add more pepper or sugar as needed. If you enjoy a little heat in your fried rice sprinkle some red pepper flakes (optional). Serve warm and enjoy!
If you enjoyed this fried rice. Check out my video on how to make Thai Chicken fried rice.
Please consider subscribing to our channel to help support us.
---
Did you enjoy this recipe? Please leave a review. I love seeing how others use this sausage and this is a great recipe. I had to use just a touch less mirin because I'm not a sugar fan but it was still really good. I like to take the same sausage and put it over steamed rice with a fried over-medium egg, sesame oil and green onion with a drizzle of soy.