My husband and I really miss the Chili's southwest egg rolls. Because of the COVID-19 pandemic, we are not able to dine out yet, so I decided to my own. Today, we are going to learn how to make Southwest Egg Rolls. I paired mine with my homemade Cucumber Aioli Sauce, Let's start cooking you guys! Come, join me in learning How To Make Southwest Egg Rolls!
---
---
Ingredients
Season Mixture
1 tbsp chili powder
1 ½ tsp cumin powder
1 tsp cayenne pepper (use paprika powder if you want it less spicy)
¼ tsp garlic powder
¼ tsp onion powder
¼ tsp crushed red peppers
¼ tsp oregano
1 tsp Kosher salt
1 tsp coarse ground black pepper
Chicken Filling
2 lbs chicken tenders or chicken breast, cut into bite-sized pieces
1-2 tbsp extra virgin olive oil (you may also use canola or vegetable oil)
1 large red bell pepper, cut into small dices
2 medium-sized Roma tomatoes, cut into small dices
2 medium-sized Serrano peppers, finely chopped (you may also use Jalapeño peppers)
1 can black beans, strained and rinsed
2 cups frozen white corn, thawed (You may also use the corn in a can)
4 sticks medium cheddar cheese, chopped (you may use any cheese you like)
2 slices muenster cheese, broken into pieces
A handful of baby spinach, chopped
6 stalks scallions or spring onions, finely chopped
Garnish
½ of a medium-sized lemon
Egg Wash
1 large egg
1-2 tbsp drinking water, at room temperature
General
20-30 egg roll and/or raw tortilla wrappers (I used 10 each of both)
1 tbsp all-purpose flour
1-2 cups canola oil
---
Item's you'll need
Measuring bowls, containers, and spoons
Medium-sized pot, or deep frying pan
Wooden ladle
Regular and serrated knives
Cutting boards
Grill
Thongs
Plates
Large iron skillet (12") or frying pan
Wire racks
Fork
Rubber or pastry brush
Kitchen cloth
Chopsticks or toothpicks
Large and small strainers
Vacuum seal (optional)
---
Instructions
Make The Seasoning Mixture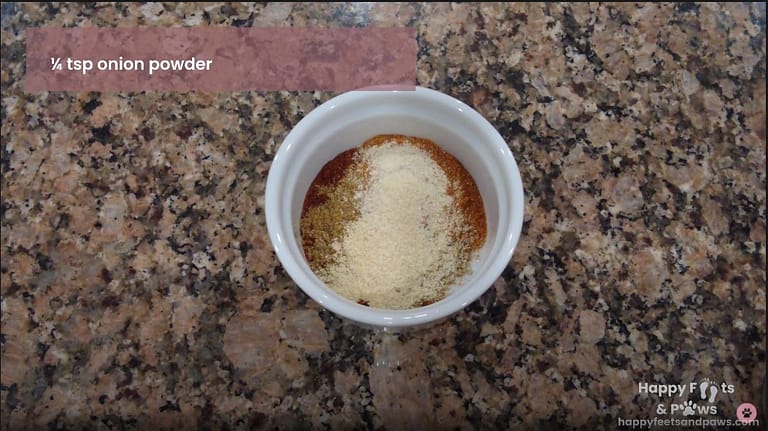 In a small container, combine the seasoning mixture ingredients. Mix well. Set aside for later.
Grill The Chicken
In a medium-sized mixing bowl, put the chicken tenders. Season them with salt and pepper. In a preheated barbecue, grill the chicken for 5 to 7 minutes on each side at 500°F/260°C. When done, remove them from the grill and allow them to cool down before cutting them into bite-sized pieces. Set aside.
Make the Chicken Filling
In a large skillet or frying pan, heat 1 to 2 tbsp of cooking oil over medium-high heat. Saute' the diced red bell peppers for 2 to 3 minutes. Next are the dices of Roma tomatoes. Saute' until soft. Add the chopped Serrano peppers and saute' until fragrant. Then add the strained and rinsed black beans. Next is the frozen white corn, thawed. Stir again to combine then simmer for 6 to 8 minutes. Add the grilled chicken. Then the seasoning mixture and stir. Put the cheese and stir until cheese melts. Cook for 3 to 5 more minutes. Add the chopped baby spinach and the finely chopped spring onions. Stir then turn the heat off.
Make The Egg Rolls
In a small container, 1 egg and 1 to 2 tbsp of water to make the egg wash. This will be used to seal the egg rolls. Lightly flour a large cutting board or flat surface to put the finished egg rolls to prevent them from sticking. On a separate cutting board, put the egg roll wrapper (I used two types, the regular egg roll wraps, and some raw tortilla wraps. Cover the wrappers with a damp cloth to prevent them from drying out). Scoop ½ cup of the filling, put it in the middle of the wrapper. Fold both sides and the back firmly as you roll them slowly. About 1/3 of the way, stop rolling and brush the remaining wrapper with the egg wash. When it is well coated, continue to roll to seal the egg rolls. Put the finished egg rolls on the lightly floured cutting board or surface. Repeat the process until chicken filling is consumed.
Fry the Egg Rolls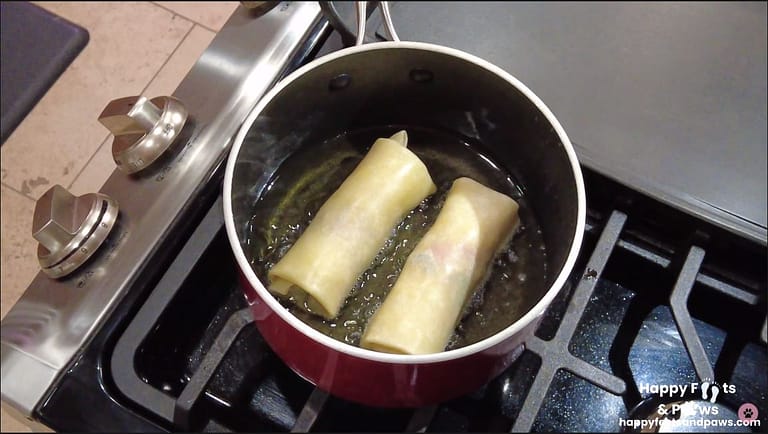 In a deep frying pan or pot, heat 1 to 2 (or more) cups of cooking oil over high heat. Make sure the temperature gets up to 350°F/176°C before putting the egg rolls. You may low the heat to medium-high. Flip them over every 1 to 2 minutes or until all sides turn golden brown (if using a deep fryer, fried the egg rolls for 3 to 5 minutes or until the color turns golden brown). When done, put them on a wire rack to cool down. When the egg rolls are cool to the touch, slice them in half using a serrated knife. Serve them warm with your favorite dipping sauce. I paired mine with my homemade Cucumber Aioli sauce. To save the leftover put the raw egg rolls in the freezer uncovered for 30 minutes to an hour. Then vacuum seals them. This will keep its egg roll shape. Enjoy!
Please consider subscribing to our channel to help support us.
---
Did you enjoy this recipe? Please leave a review.