I tried Zucchini bread at my parents-in-law's house for the first time. My Father-in-law made his awesome zucchini bread when they invited us over for dinner. I have been wanting to make it since. Now, this is my take on Zucchini Bread and I topped it off with some Cream Cheese Frosting. I used less sugar as I know frosting will complete the sweetness of this moist and delicious dessert/any-time-of-the-day-snack! Use the real fatty cream cheese to get that real goodness and stiffness of the frosting. Join me in learning how to make Zucchini Bread with Cream Cheese Frosting!
---
---
Ingredients
Zucchini Bread Batter
2-3 cups shredded zucchini, excess water removed
6 tbsp unsalted butter, melted and cooled down
1/3 cup sugar (I used light brown sugar. Adjust to taste)
1 large egg
1 tsp vanilla extract
½ cup buttermilk or buttermilk substitute (I used buttermilk substitute which uses is ½ cup of milk + ½ tbsp of lemon juice or vinegar. Let it sit for 10 minutes until milk curds are formed)
1 ½ cup all-purpose flour
1 tsp baking soda
½ tsp salt
Mix-Ins
1-2 cups walnuts, chopped (reserve some for toppings)
1 cup semi-sweet mini chocolate chips, reserve some for toppings (use any chocolate chips you desired)
Cream Cheese Frosting
8 oz cream cheese, softened (I used Philadelphia cream cheese)
1 stick (½ cup) unsalted butter, softened
1 tsp vanilla extract
1 cup powdered sugar
---
Instructions
Make the Batter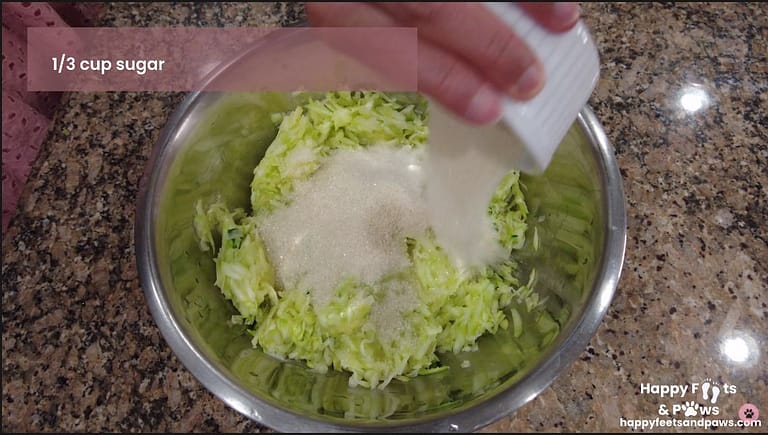 In a medium-sized or large mixing bowl, shred 2 medium-sized zucchini. Using a clean kitchen cloth, put the shredded zucchini and squeeze out the excess water (make sure to squeeze tight). Then put the shredded zucchini back into the mixing bowl. Pour the melted unsalted butter, sugar, and egg. Mix until well blended. Add the vanilla extract and mix. Then add the buttermilk substitute (you may use buttermilk if available). Mix well. Sieve the flour, baking soda, and salt into the mixture. Mix until well combined. Mix in the chopped walnuts and chocolate chips but reserve some for toppings. Transfer the batter into baking glassware or pan. I used Parchments paper-lined (optional) glassware for ease of cleaning but it is up to you if you want to do the same. If you don't want to use parchment paper, make sure to grease the pan or glassware.
Bake the Zucchini Bread
Preheat the oven to 350°F/176°C. When the batter is ready place it in the oven and bake for 1 hour and 10 minutes. After 1 hour and 10 minutes insert a toothpick and make sure it comes out clean if not, bake for an additional 5 minutes then remove it from the oven. Allow to cool down for 15 to 20 minutes on a cooling rack. If you used a parchment paper-lined baking glassware, put a large plate on top of the glassware once cooled down, then flip it over and slowly remove the parchment paper. Put the glassware on top of the zucchini bread facing down and immediately flip it back into the glassware again without the parchment paper this time.
Make the Cream Cheese Frosting
While waiting for the zucchini bread to completely cool down, Let's make the cream cheese frosting. In a medium-sized mixing bowl or stand mixer bowl (if using a stand mixer), Put the softened cream cheese, unsalted butter, and vanilla extract. Cream them using a mixer at a medium speed (increase or decrease the speed as needed). Mix for 3 to 5 minutes or until well blended. Gradually add the powdered sugar and mix continuously for 5 to 10 minutes or until it's lump-free and the texture becomes soft, fluffy, and smooth. Carefully scrape the side and the bottom of the bowl using a rubber or silicone spatula to make sure there are no lumps of sugar underneath. Then set aside for later use.
Put the Cream Cheese Frosting
When the zucchini bread has cooled down completely, carefully spread the cream cheese frosting on top until zucchini bread is fully covered. Serve warm or chilled with your favorite cold or warm beverages and enjoy!
Did you like this recipe? Please leave a review.