This video will teach you the easy way on how to Make Filipino Adobo. I like my Adobo with chicken liver and hard-boiled eggs. However, these are optional. It is quick, straightforward, and simple. Beginners will love this recipe. I cooked this outside on our backyard BBQ. This style of Filipino Adobo comes from the Bisaya region of the Philippines. I really hope you enjoy it!
---
---
Ingredients
2 lbs Chicken and pork (I used chicken thighs, drumsticks, and pork chops)
1 lb Chicken liver
1 cup Vinegar (1/2 cup for the marinade sauce, the rest for cooking)
5-10 cloves Garlic, crushed and roughly chopped (3 pcs for the marinade sauce, the rest for cooking)
1 pc Medium-sized onion, sliced (I used sweet onion but any onion will work just fine)
5-10 pcs Bay bay leaves (5 pcs for the marinade sauce, the rest for cooking)
1 tbsp Sugar (I used light brown sugar but, you can use any kind of sugar that you prefer)
1 cup Water in room temperature
5-8 pcs Large eggs, hard-boiled (optional)
1-2 tbsp Cooking oil for frying
For the Marinade Sauce:
1 cup Shoyu (soy sauce)
1/2 cup Vinegar
3 cloves Garlic, crushed and roughly chopped
1 tbsp Whole peppercorn
5 pcs Bay leaves 1/2 Medium-sized lemon
---
Instructions
Marinade the meat: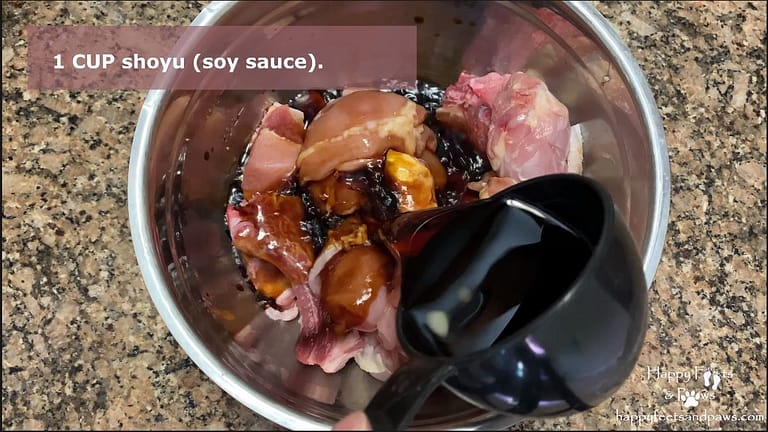 In a mixing bowl, place 2 LBS of the meat (chicken and/or pork). Add 1 CUP of shoyu (soy sauce), 1/2 CUP of vinegar, 1 TBSP of the whole peppercorn, 3 garlic cloves, 5 dried bay leaves, and squeeze 1/2 of the medium-sized lemon. Mix well until the meat is coated with the marinade sauce. Cover and refrigerate for 1 hour or overnight.
De-shell the egg: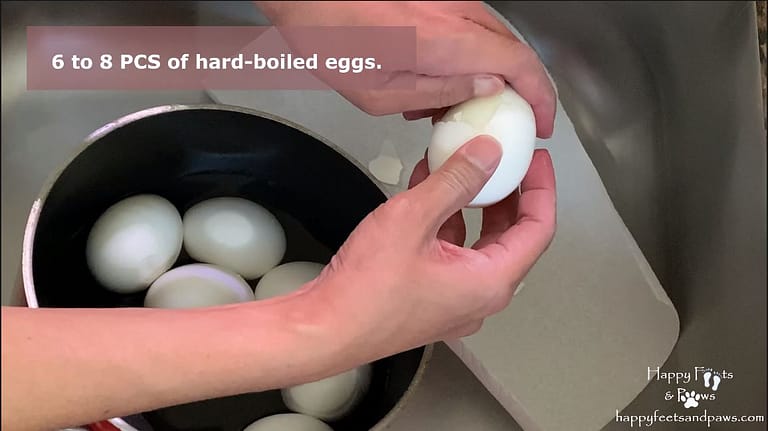 In the meantime, remove the shell on the hard-boiled eggs. Soaking the eggs for 1 hour in cold water (with or without ice) makes it easier to remove the eggshells.
Cook the meat: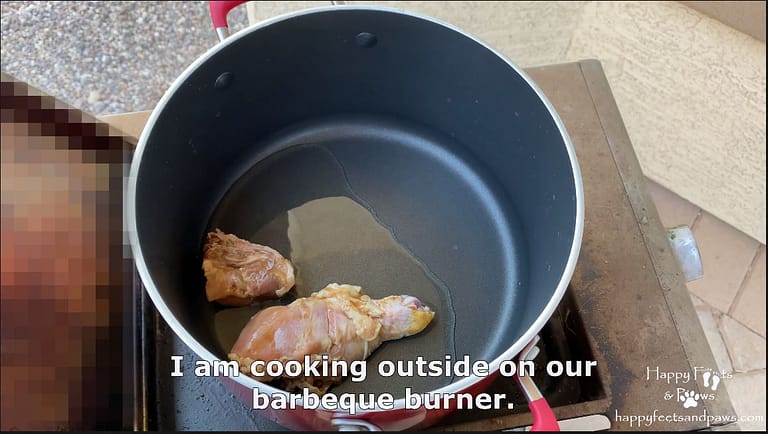 To cook, place 1 to 2 TBSP of cooking oil in a pot over medium-high heat for 1 to 2 minutes. Cook the meat and partially fry it for 5 to 10 minutes or until the meat turns brown. Fry the meat in batches and do not overcrowd so that the meat is cooked evenly. Flip the meat over, cook the other side for another 5 to 10 minutes, or until all sides become brown. When the meat is cooked, remove from pot and let it rest until ready to use.
Cook chicken liver:
Next, slowly add the chicken liver and cook it for 3 to 5 minutes on both sides or until the color turns brown. Remove from pan and let it rest until ready to use.
Combine ingredients: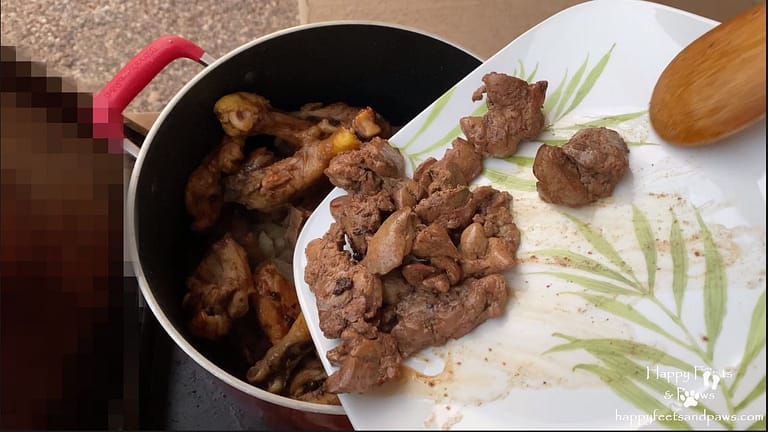 Using the same pot, the leftover cooking oil, saute the remaining garlic until aromatic. Add the onion, saute for 1 to 2 minutes, or until caramelized. Add the partially cooked meat (chicken, pork, and chicken liver). Pour in the marinade sauce, the bay leaves, and a cup of water. Stir to combine. Cover and let it simmer for 20 to 30 minutes. Add 1/2 CUP of vinegar. Stir to combine. Cover and let it simmer for another 10 to 15 minutes. Add 1 TBSP of sugar and stir to combine. Add the hard-boiled eggs and stir to coat the eggs with the sauce. Simmer for another 5 minutes and remove from the stove.
If you enjoyed this Filipino dish. Check out my other classic Filipino dish: How to make Filipino Lumpia
Please consider subscribing to our channel to help support us.
---
Did you enjoy this recipe? Please leave a review. When I was a kid I would eat this at my neighbors house. It's so nice to be able to make this recipe just like what I experienced as a child. Thank you so much for the easy recipe!